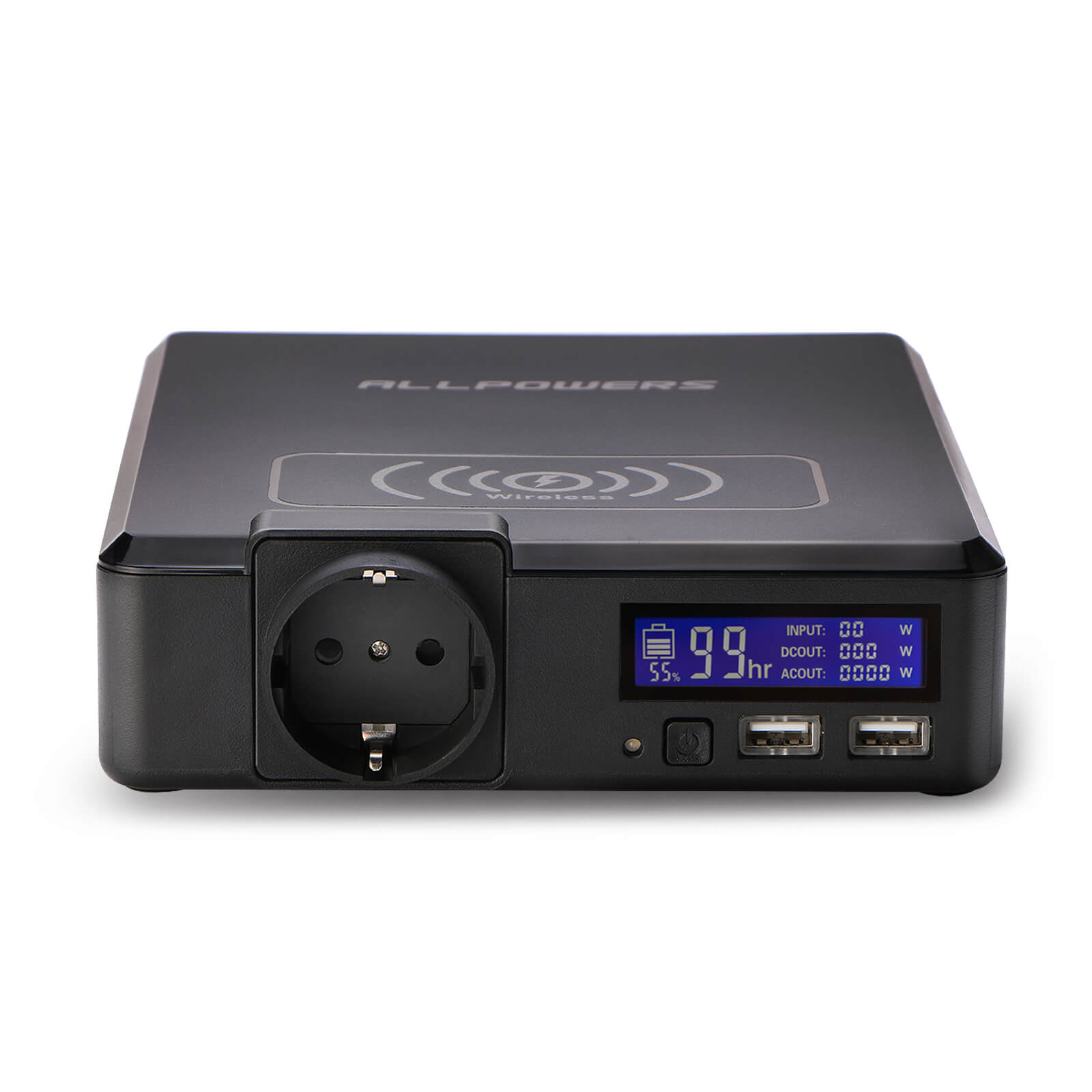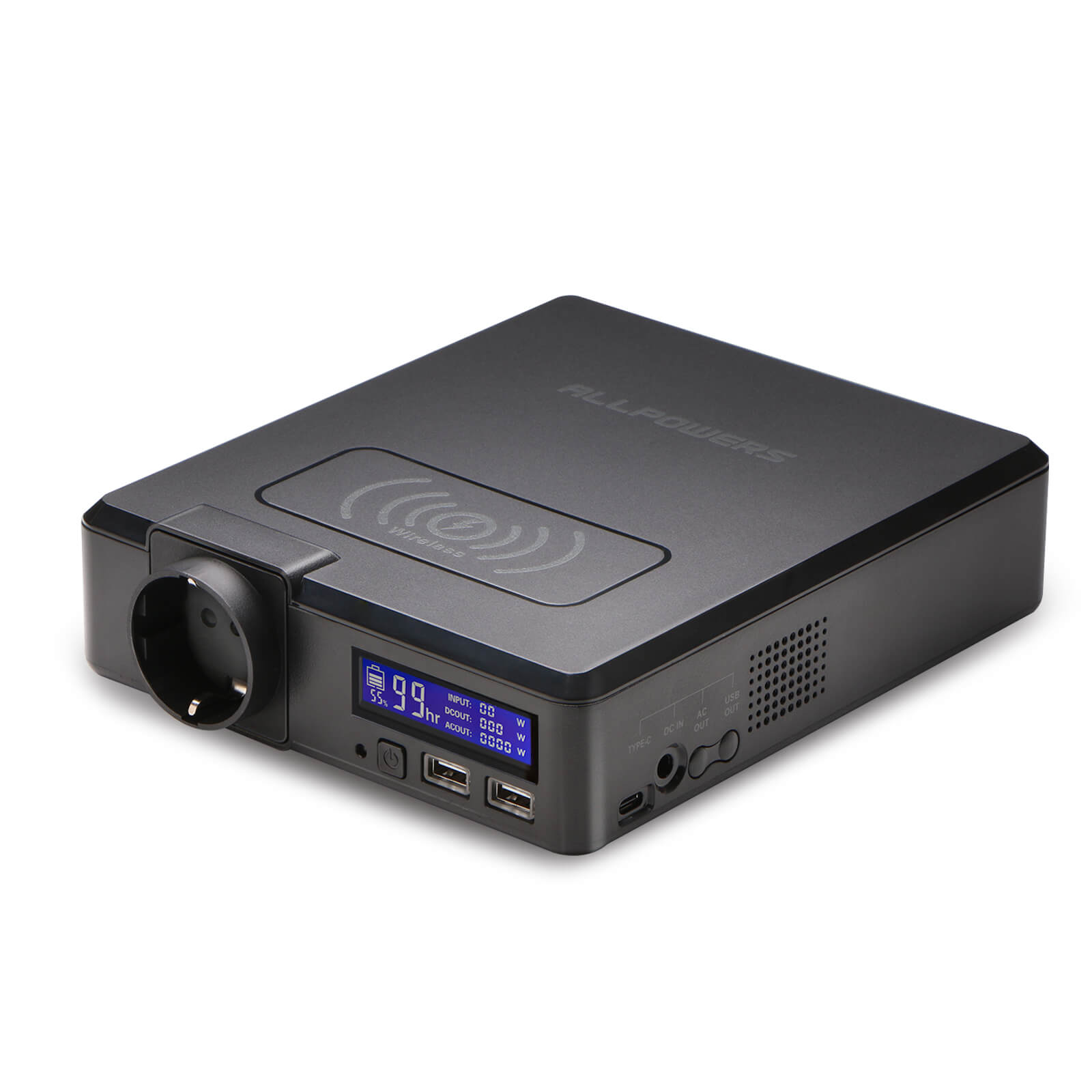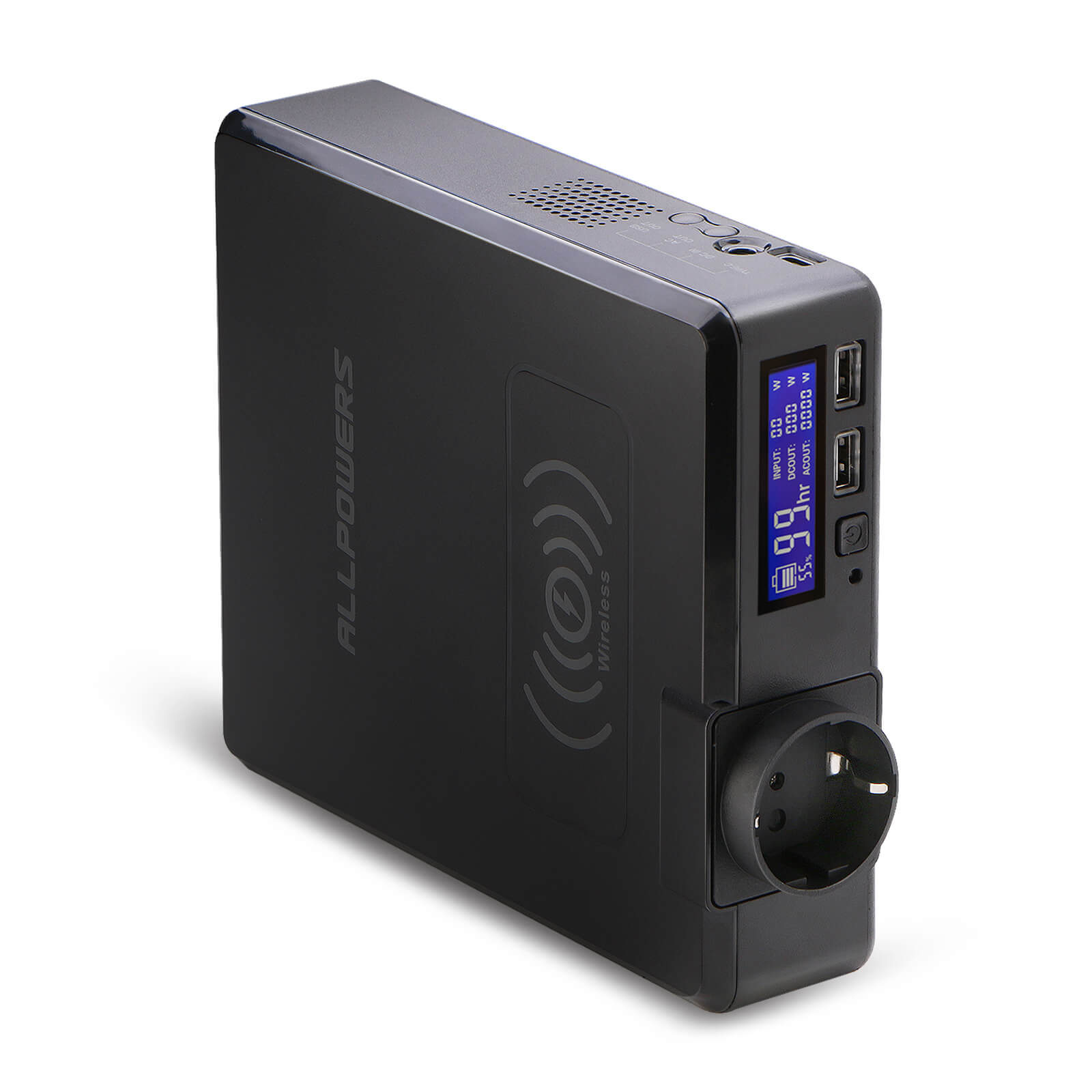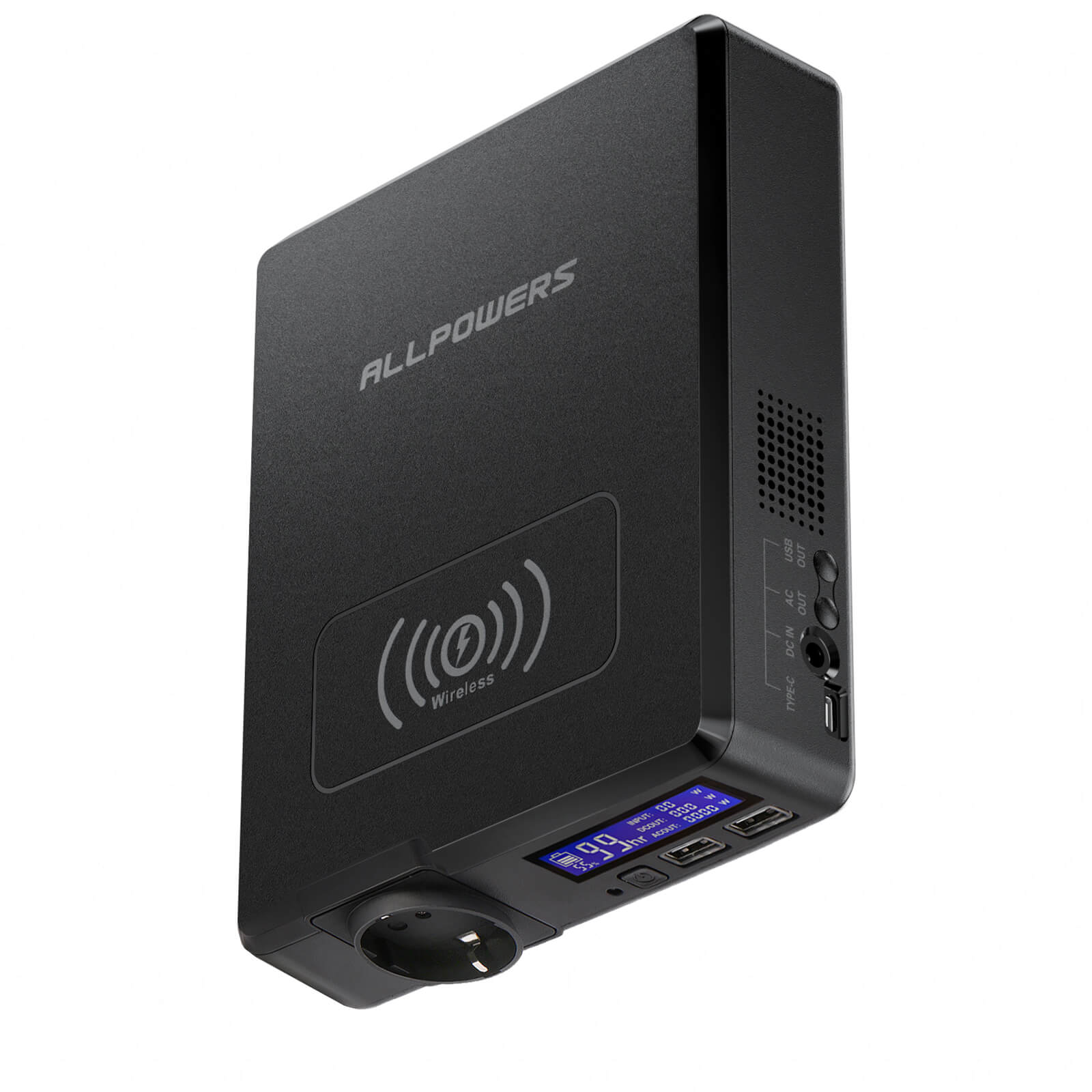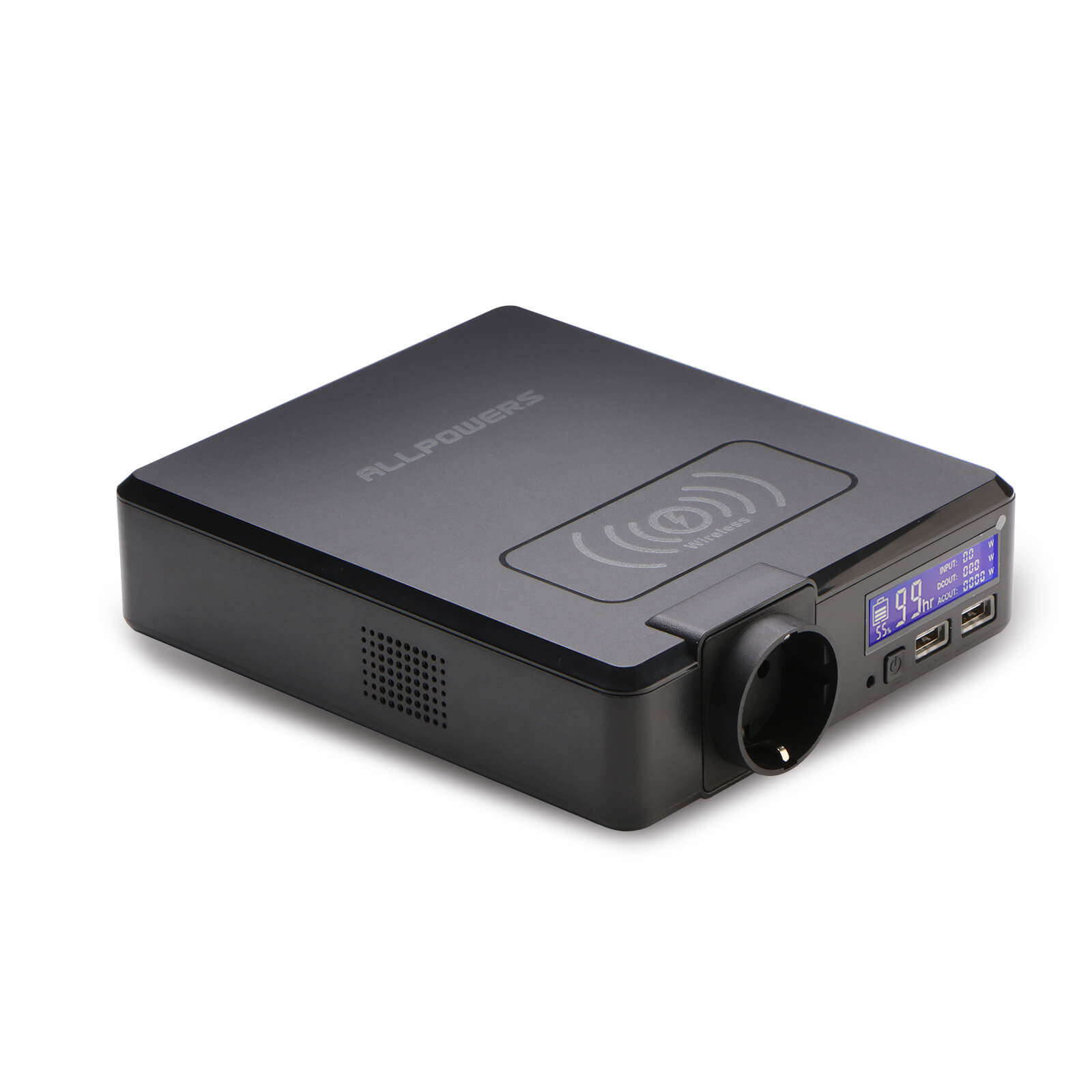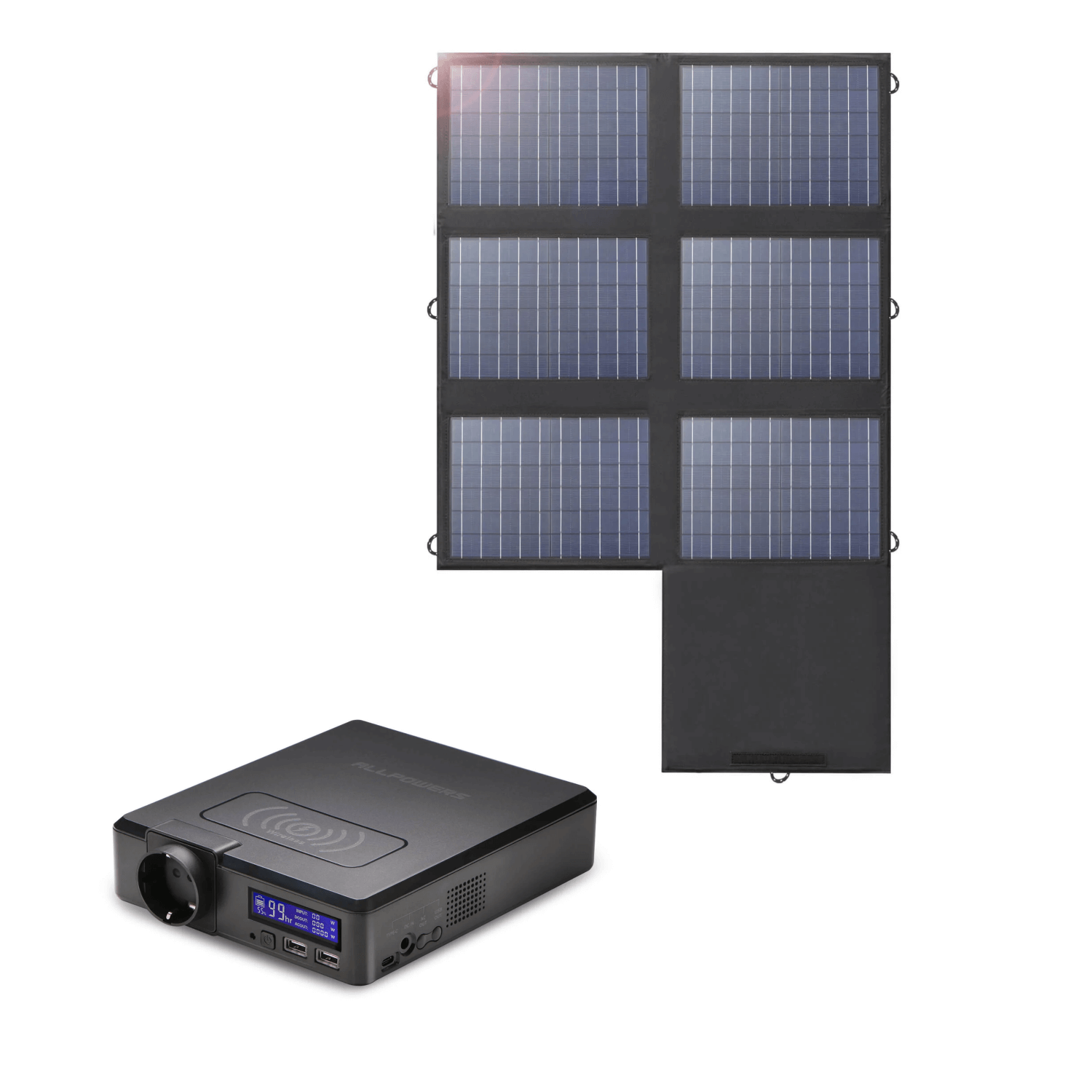 ALLPOWERS S200 Portable Power Bank 200W 154Wh
---
EU delivery, 3-5 days delivery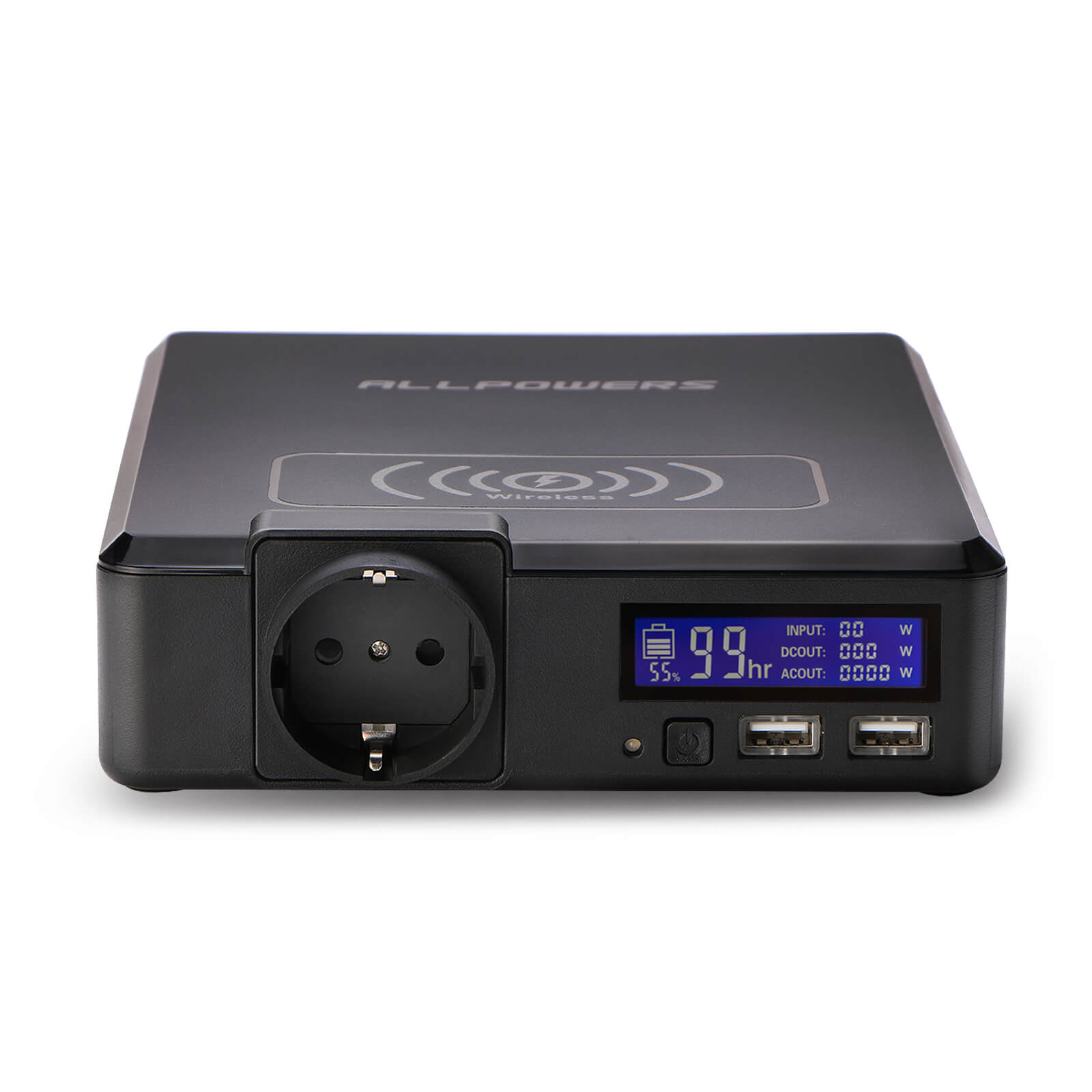 Feature Specification
154Wh Capacity;
200W AC output (240W surge);
1.5hours. Fast Dual Charging (USB-C+AC);
3 Ways to charge (USB-C+AC+solar charger);
99W Max. Solar Input;
Wireless charger;
3 lbs; 7.87*6.7*1.96 inch;
Portable carry/ Fast Charging/Certified Safe
EU Plugs and UK Plugs Sockets(UK plugs can only be sent to the UK)
For customers in other countries such as Ireland who use UK plug standards, they can purchase a European-style to British-style conversion socket adapter online
Download Manual
Protection Circuit
Short circuit, over current, over power, over charge, over-temperature, ect
Net Weight
7.87*6.7*1.96 inch/‎20 x 5 x 17 cm
USB-C 60W + Wall Outlet Input
5V/9V/12V/15V/20V-3.0A(PD 60W max)
Solar Input
99W Max (USB-C Charger not included)
Wireless Output Port
5V/9V/12V/15V/20V-3.0A(PD 60W max)
Wireless Charging frequency
Huge Energy With Mini Size
The laptop power bank only weights about 3 lbs with size 7.87*6.7*1.96 inch, easy to put in a bag. 200W/ 154WH /41600mAh capacity allows you to power 3 hours for laptop, 14 times for phone and 8 times for iPad. Ideal external battery for outdoor work, learning in library, laptop using in cafe.
Fully Charged Within 1.5hours
S200 features Dual-way quick recharge technology.99W Fast Charging that enables a 100% charge in the time it takes you to have a rest,providing sufficient power on demand.
Wireless Charging
The wireless charger supports most smartphones that are equipped with QI standard technology or other QI enable devices.When you are outdoors, don't worry about not having a charging cable
Power Up to 5 Devices Simultaneously
Features 1* AC outlet (220V-240V 200W), 1* Wireless charge, 2* USB-A ports and 1* Type-c port,Everyone will be taken good care of, regardless you're at home or staying outside.
Easy To Take Everywhere
The laptop power bank only weighs about 3 lbs with size 7.87*6.7*1.96 inches, easy to put in a bag. It won't be your burden when you are outdoors.
Solar Panel Charging
Recharged by Solar Panels 60W within 3 -4 hours, compatible with SP020 Solar Panel 60W and SP026 Solar Panel 60W
ALLPOWERS, Power Anywhere at Anytime
With 154Wh battery pack, ALLPOWERS Portable power bank is powerful enough to charge laptops, phones, cameras, drones, holiday lights and more, meeting different kinds of electricity demands usage for outdoor working, learning, emergency, trips.
Can it charge and discharge at the same time?
What device can ALLPOWERS S200 power?

Please note that the AC output ports can only charge devices that operate at less than 200W besides, the whole wattage should be under 200 watts as well . Once exceeding, theALLPOWERS S200 will shut off automatically. Please refer to your device specification before purchase.
Is the ALLPOWERS S200 power station waterproof?

No. Please do NOT store it in a humid environment for a long time.
What kind of the solar panel should I choose?

The S200 solar input watt is 99W, if you exceed the watt, S200 will shut off automatically. You could choose 60W/100W solar panel to connect with S200.
Can I take this product on the plane?

Battery capacity: 154Wh/ 41600mAh, 3.7V.
The above is the capacity of the product, please consult the airline for specific policies.
Does this product have wireless charging?
S200 Solar Generator 200W Kit
View all
Save €100,00
Save €120,00
Save €50,00
This product is rated 4.4 of 5.0 stars.
It has received 9 reviews.
Maybe not the best option
Please note that the following review is based on what seems to be like a faulty unit.
The good:
- Very compact
The bad:
- Not the greatest capacity per volume but this is likely due to the space overhead took by the AC inverter
- My unit kept cutting off the USB-C port power during the efficiency tests althought I went as low as 5V / 2A.
- When trying to run the AC efficiency test, within seconds I could feel a strong smell of overheating components so I quickly stopped it. I was drawing only 60W.
I asked for a refund and although the initial conversation was slow, I wasn't able to do it but only due to the local DPD network. However Allpowers did their best to facilitate the process and I thank them for that.
electric car with kit's battery
Hello,
I am in search of a Portable Generator + Solar Panel Kit that would allow me to charge my electric car using the kit's battery.
Best regards,
ALLPOWERS S200 Portable Power Bank 200W 154Wh
super love it!
Works really well and love every aspect of it compact light weight and easy to use. Would recomend it to friends and family.
Needs a bit better and more to be practical
Using it outdoors for powering speakers, apple TV and screen, laptop charging. It needs a pure sine AC output. There are problems with the modified sine wave on a lot of devices. Also only one USBC with only 60 watts is not enough. My Laptop needs at least 100W. It needs better cooling. the fan is too loud and due to its small size high pitched (extremely unpleasant)