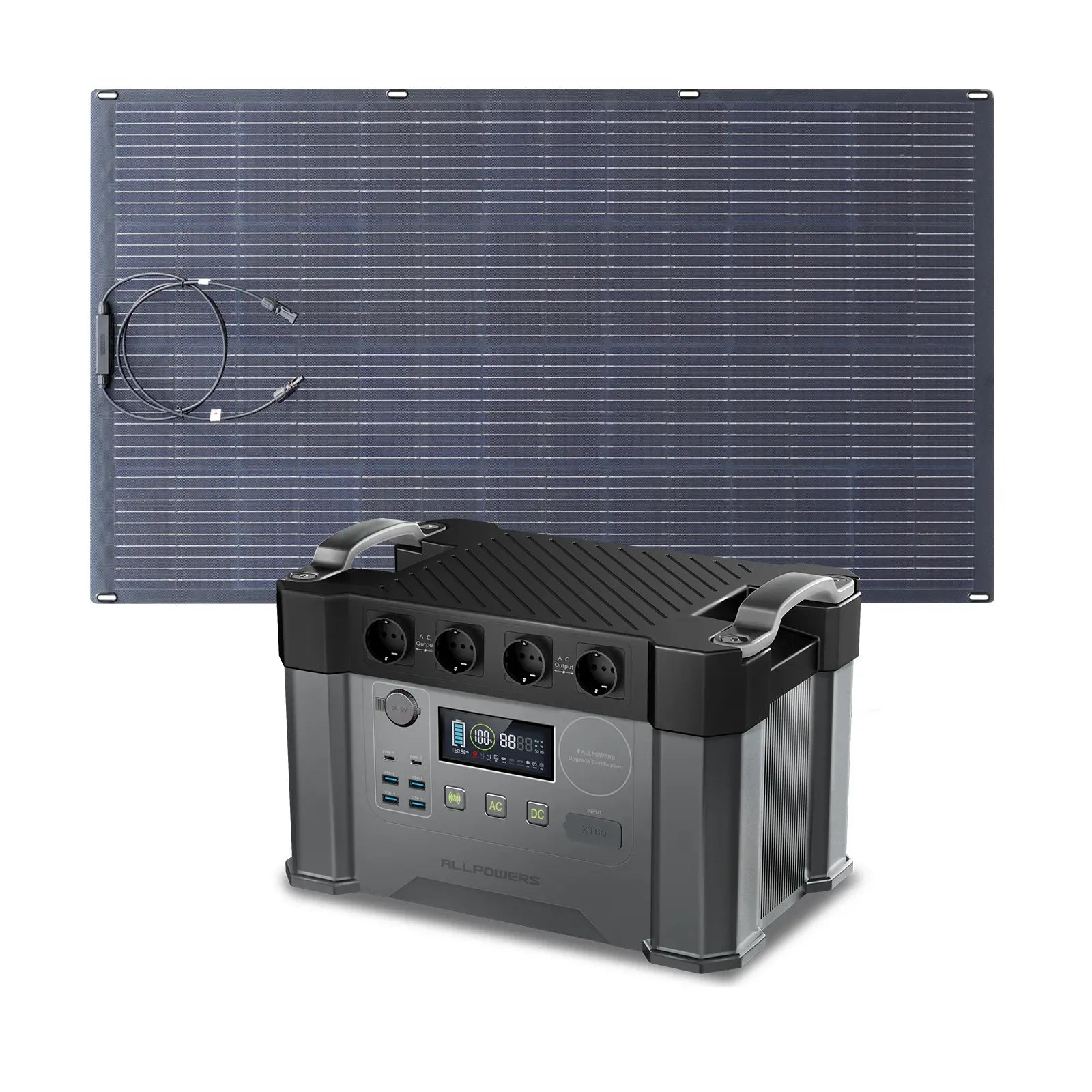 ALLPOWERS Solar Generator Kit 2000W (S2000 + SF200 200W Flexible Solar Panel)
---
EU delivery, 3-5 days delivery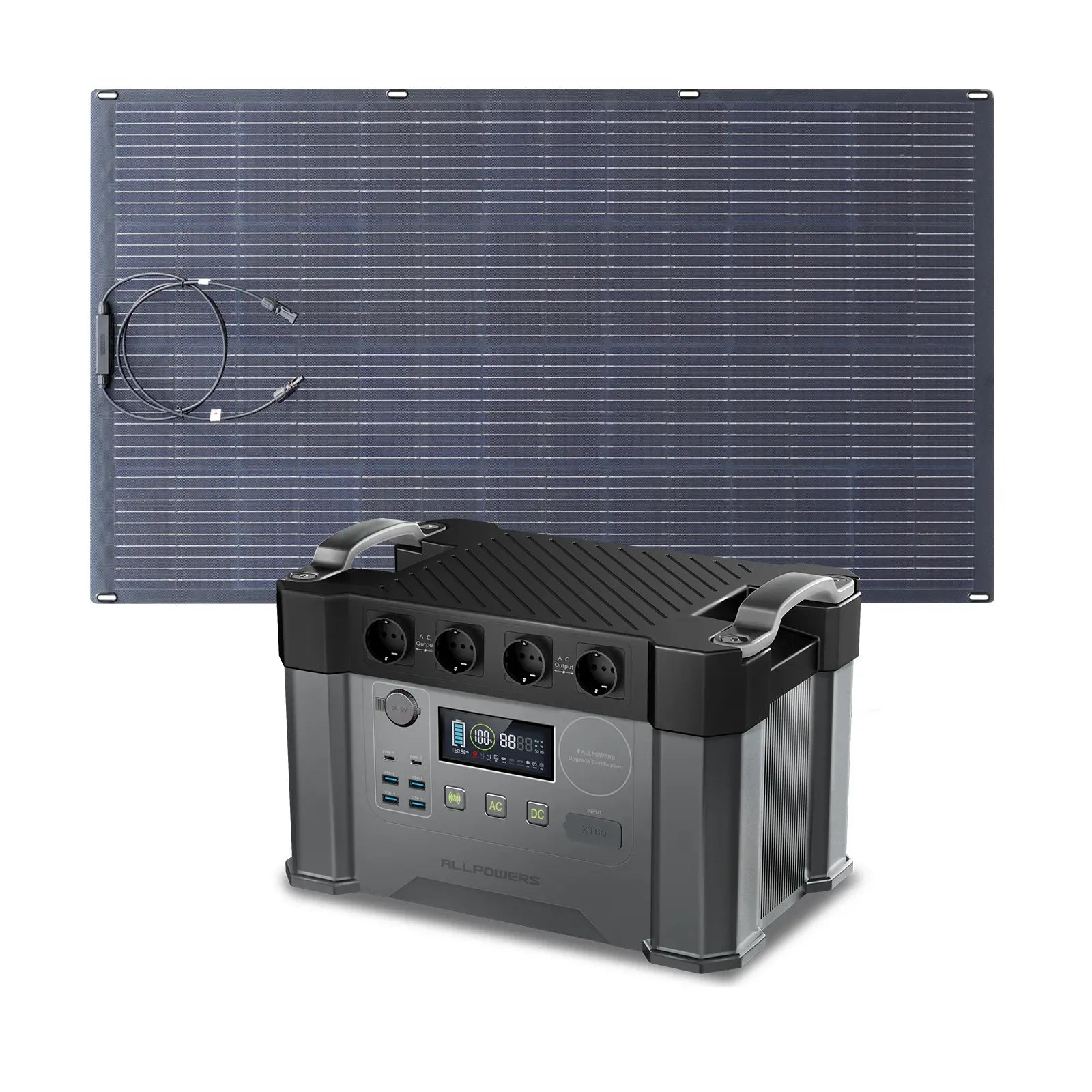 Feature Specification
1,500Wh,405405mAh Capacity;
2000W AC Pure Sine Wave Inverter (4,000W Surge);
Recharge from 0-100% in 1.6 Hours(AC+solar input);
Battery with 2,500+ Life Cycles to 80%;
Power 99% of Electrical Appliances;
500W Max MPPT. Solar Input
Eco-friendly/Gas free/Cost-effective
EU Plugs and UK Plugs Sockets(UK plugs can only be sent to the UK)
For customers in other countries such as Ireland who use UK plug standards, they can purchase a European-style to British-style conversion socket adapter online
Download Manual
4* AC Output
Continuous: 2000W, Surged: 4000W
4* USB A Output
USB1/USB3:5V3.5A/9V2.5A/12V2A USB2/USB4:5V3.5A/9V2.5A/12V2A USB1+USB3/USB2+USB4:5V2.4A+5V2.4A
2* USB C Output
5V/9V/12V/15V/20V 5A PD 100W
Solar Input
500W (12-70 V, 18 A max.)
Dimensions
14.76×9.64×9.84in/37.5 x 24.5 x 25.0 cm
Back up Battery for Home and Outdoor
No matter where you are: at home during an electrical gremlin, in your backyard, at a work site, in the woods, or on a road trip.S2000 could be your back up.
Meet 99% Appliances Needs
This ground-breaking S2000 powers all of your imaginable appliances, including hot plates, full-sized refrigerators, air conditioners, and more, with an enormous charging capacity of 1,500Wh. Everything about it is ideal, from taking your impressive family holidays to the next level to off-grid adventuring in the most inspiring settings. You have the ability to make it part.
Five Ways to Recharge
From charging at home to more mobile solutions, we offer five ways to charge your S2000 : AC charging, car charging, solar charging, dual charging (AC+solar),Generator charging.Using XT60 solar input and MPPT advanced technology, an ALLPOWERS solar generator can be recharged in just 3 hours! The portable power battery can also be fully charged indoors in 4 hours using an AC cable . You can charge it up in less than 1.6 hours using dual 900W charging. You can also charge it using your car's 12V or 24V cigarette lighter.
Smart Phone Remote Control
Advanced app experience, Bluetooth technology provides a stable and reliable remote control that makes operation easier and free.
Power 11 Appliances Simultaneously
The S2000 comes with a 1500Wh battery pack and has 4* AC outlets (PURE SINE WAVE, 2000W, peak 4000W), 2* PD 100W USB-C ports, 2* USB-A QC3.0 fast charge ports, 2* standard USB-A ports, and 1* Car socket.
Ultra-durable & Safe Power For Your Life
The S2000 Lithium battery offers 2,500+ life cycles and lasts for almost 10 years (one cycle per day), along with the advanced Battery Management System (BMS) integrated in S2000 monitors everything happening in this device, protecting your device from every potential risk in the day-to-day operations.
High Capacity Battery
You are always well prepared for any power outages with S2000. This is the best backup source for a power outage. It is quiet in operation and maintenance-free. Finally it can give you enough power to run your essential home appliances. Such as refrigerator, coffee maker, electric grill, electric saw etc
Green Power,Green Life
You can connect multiple solar panels to charge the S2000, which can save bills and store backup power.
Can it charge and discharge at the same time?
What device can ALLPOWERS S2000 power?

Please note that the AC output port can only charge/power devices that operate at less than 2000-Watt. Once exceeding, the S2000 will shut off automatically. Please refer to your device specification before purchase.
How do I know the working hours of my device?

First, you need to know the watt of your load device, such as it is 500W.
Then,
AC output:
working time = 1500Wh * 0.85 / working power of the device.
1500Wh * 0.85 /500w=2.5 hours (rough calculated)

DC output:
working time =1500Wh * 0.90 / working power of the device.
1500Wh * 0.9 /500w=2.7 hours(rough calculated)
Is it possible to replace the built-in battery?

No, the product could not support change the battery or expanded battery capacity
How many solar panels can be connected to S2000?

The maximum input wattage of S2000 is 500W MPPT(18V-70V)
. Please choose a solar panel in this voltage range.you could chooe ALLPOWERS 400W solar panels, multiple 200W solar panels or multiple 100W solar panels in series or in parallel.Please remember that use the solar panels within the range(18V-70V).If you have any questions, please feel free to contact us.
How long does it takes to full charge this power station?

AC charging:400W, fully charged in 4-5 hours
Solar charging:500W, fully charged in 3-4 hours
AC charging+solar panel charging: 900W, fully charged 1.5h"
This product has no reviews yet.