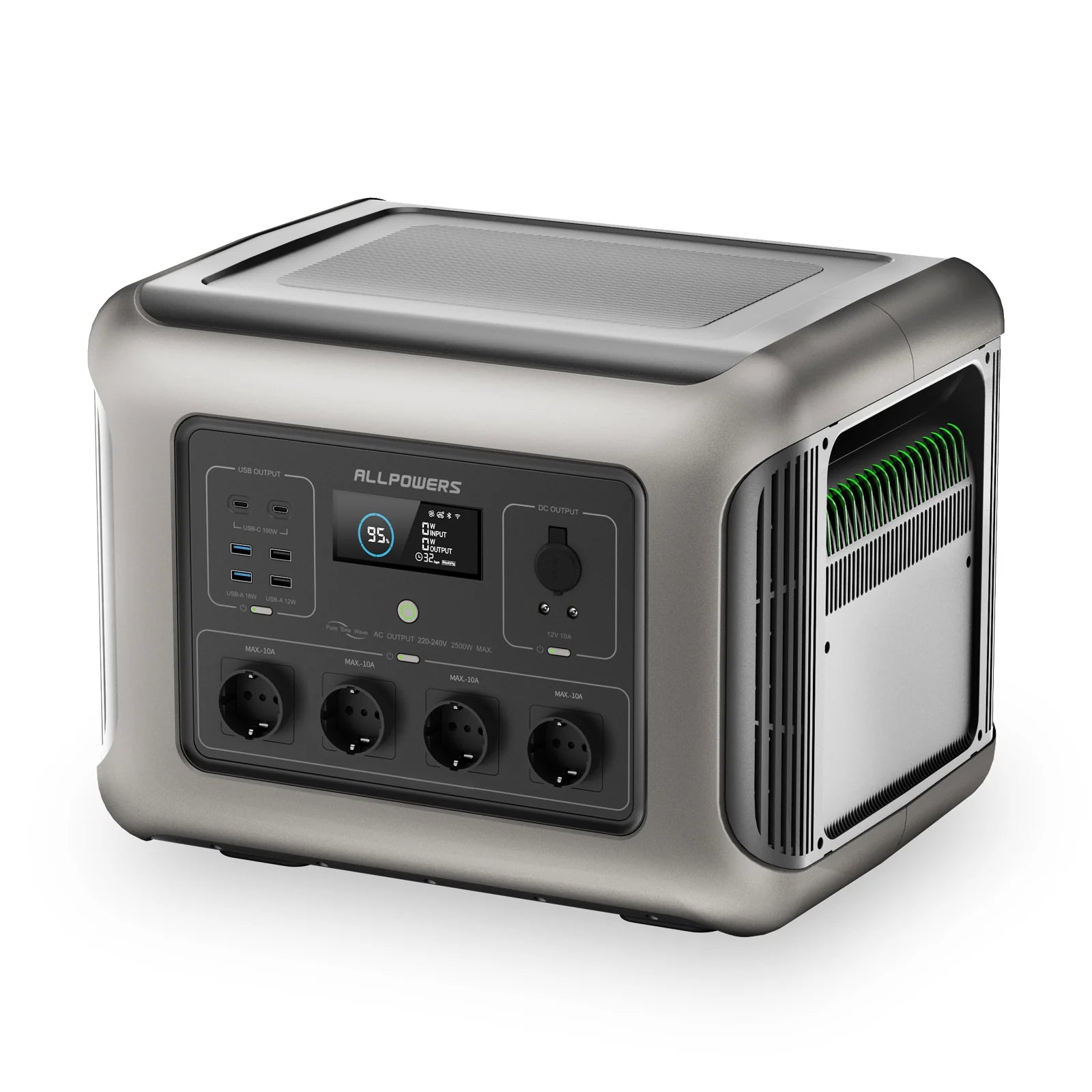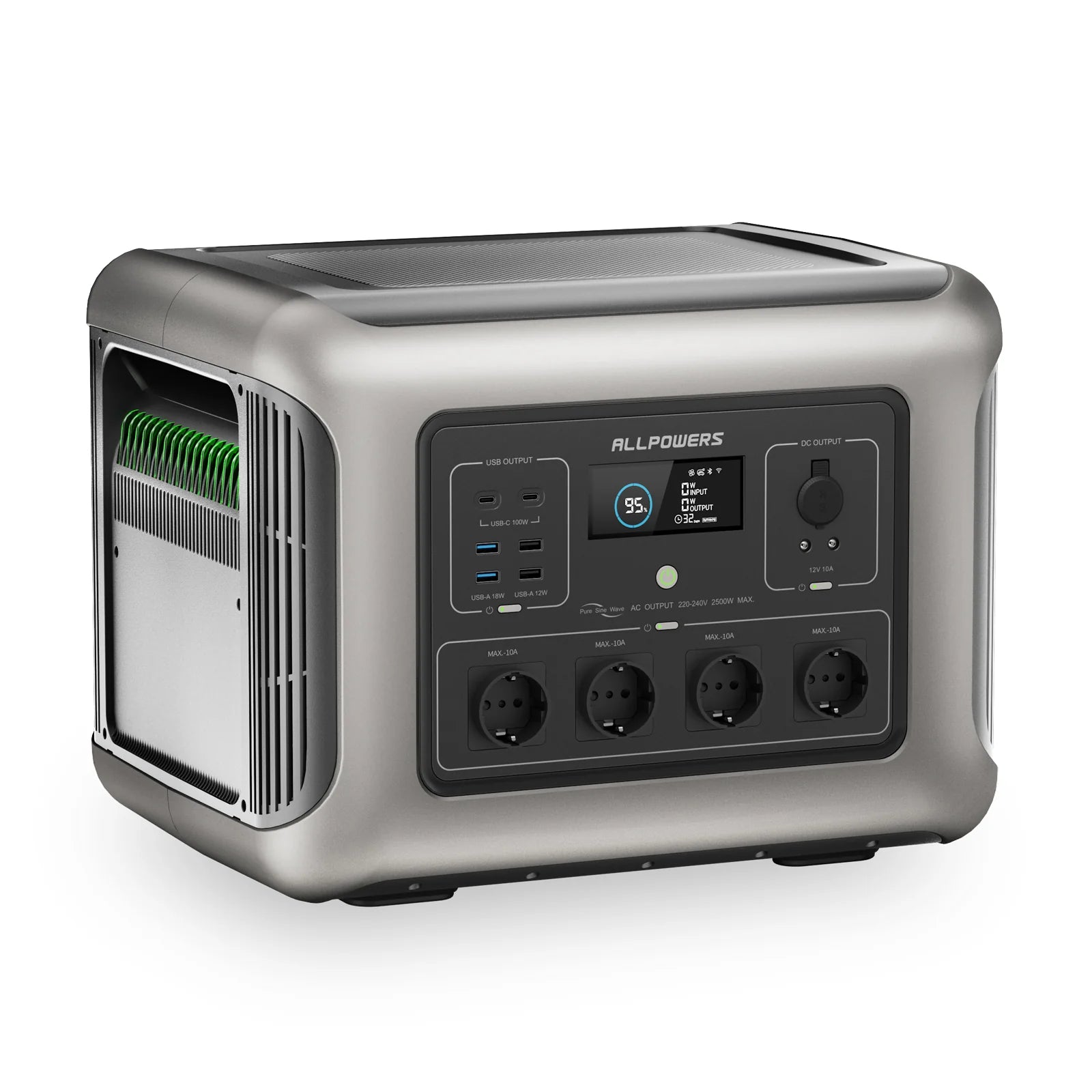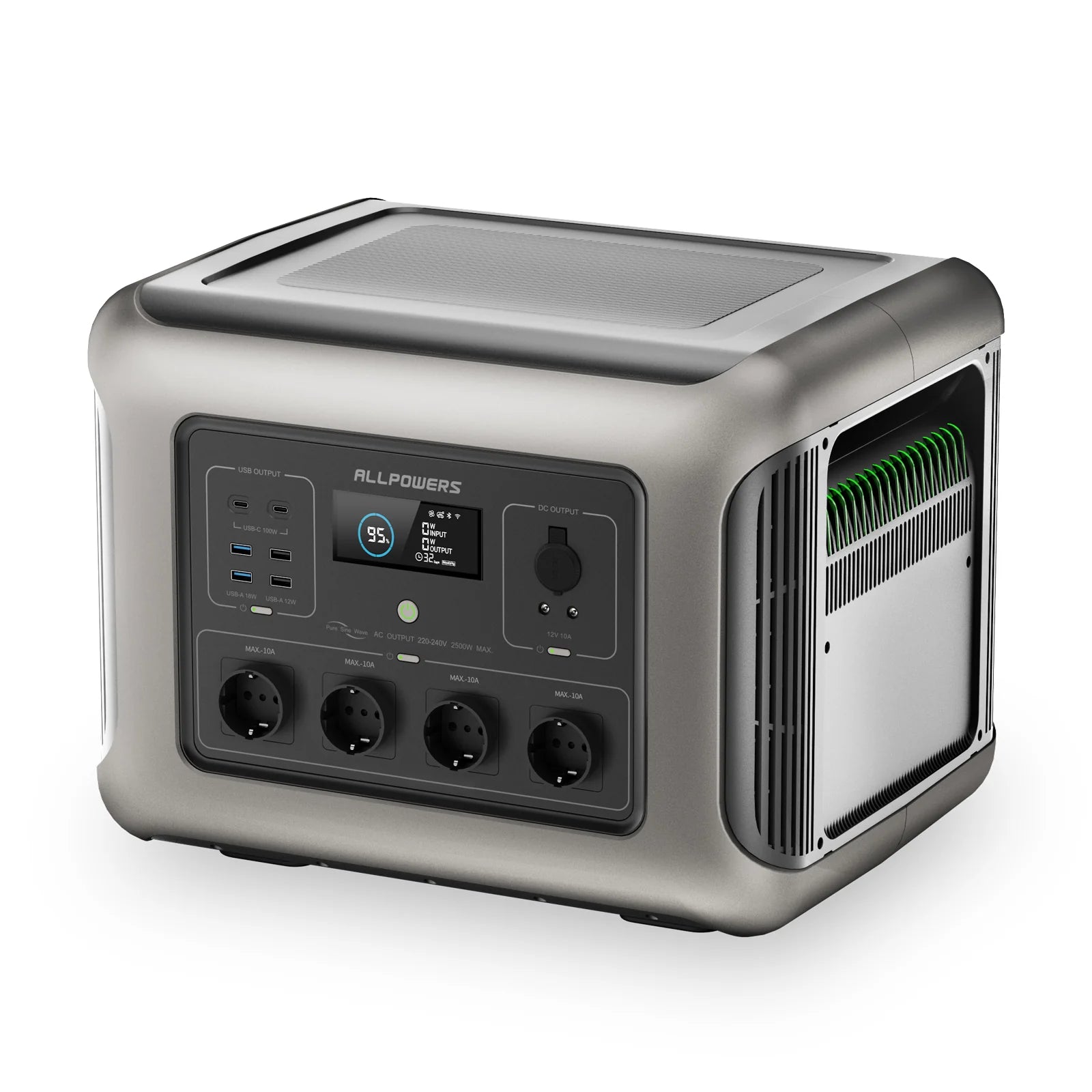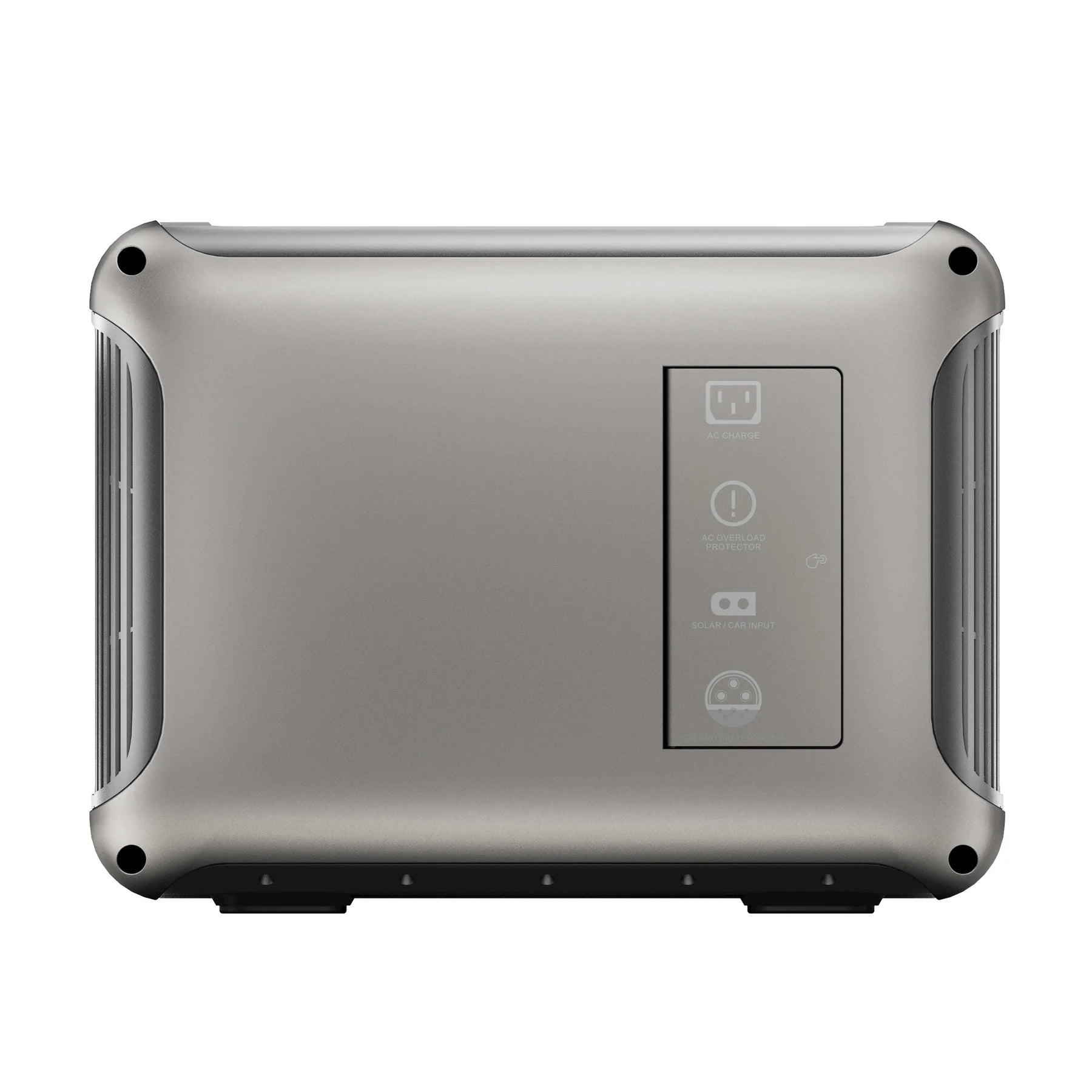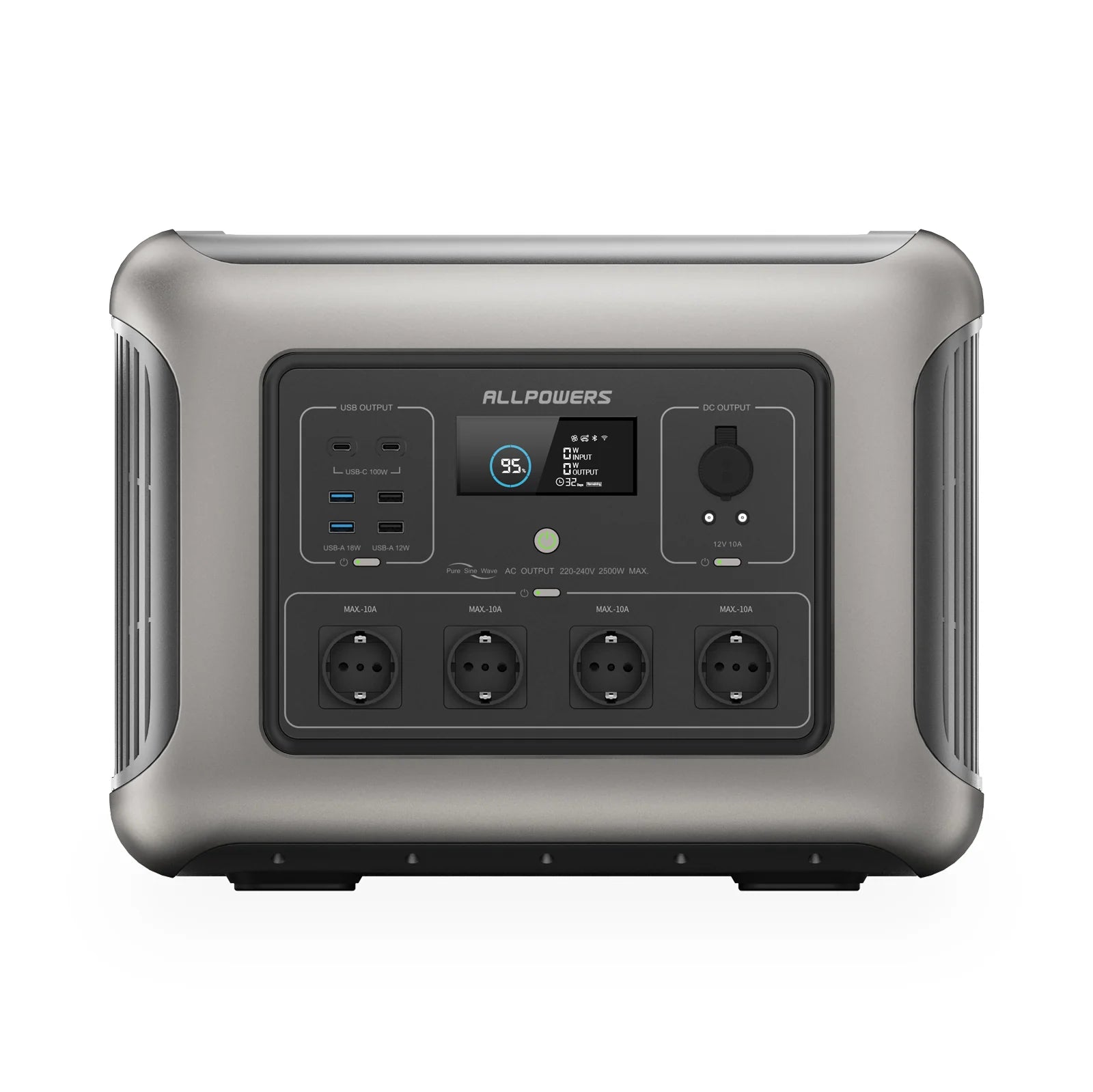 ALLPOWERS R2500 Portable Home Backup Power Station 2500W 2016Wh
---
EU delivery, 3-5 days delivery
Feature Specification
2016Wh capacity;
2500W Pure Sine Wave Inverter (4000W peak);
Maximum 2500W dual input in 1 hour (AC + Solar);
Maximum 1000W solar charge in 2 hours ;
5 ways to charge (AC/Solar/Auto/Generator/Double AC+Solar);
15ms uninterruptible home backup UPS;
Long-life LiFeP04 battery with over 3,500 charging cycles;
Maximum 4000W AC output with parallel connection (12kW peak);
Expandable up to 20kWh with B3000 expansion battery
EU Plugs and UK Plugs Sockets(UK plugs can only be sent to the UK)
For customers in other countries such as Ireland who use UK plug standards, they can purchase a European-style to British-style conversion socket adapter online
Download Manual
AC Output
4x 220-240V 2500W Max (Surged 4000W)
USB-C Port
2x 5/9/15V⎓3A, 20V⎓5A, 200W Max.
USB-A Port
2x 5V⎓2.4A, 12W Max.
2x 5V⎓3A, 9V⎓2A, 12V⎓1.5A, 36W Max.
Dimensions
45.6 x 36x 34.6 cm
17.95 x 14.17 x 13.62 inch
Scalability
Expandable Capacity Up to 20kWh
with Parallel Port
Certification
UL / PSE / CE / FCC / RoHS / UKCA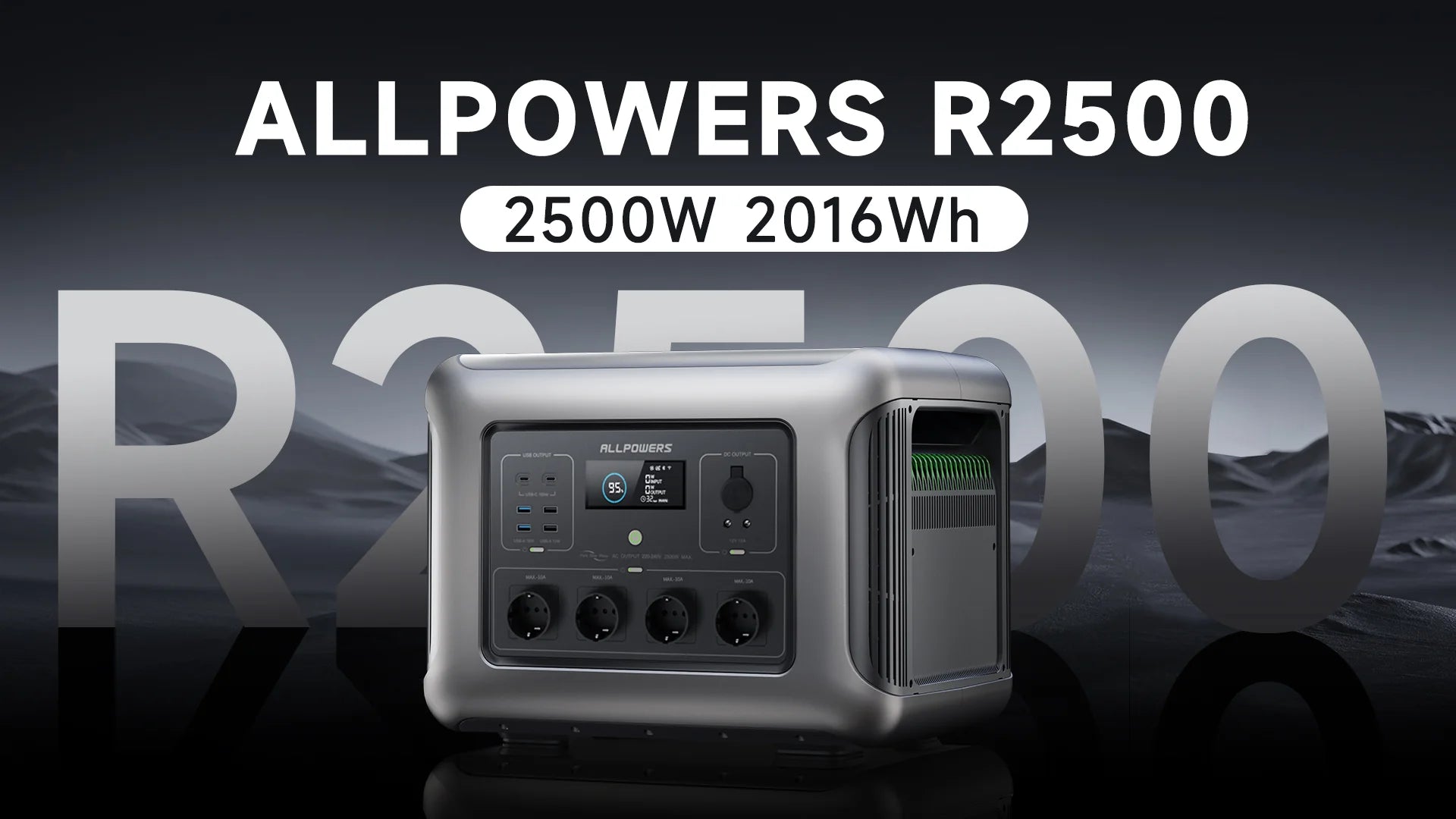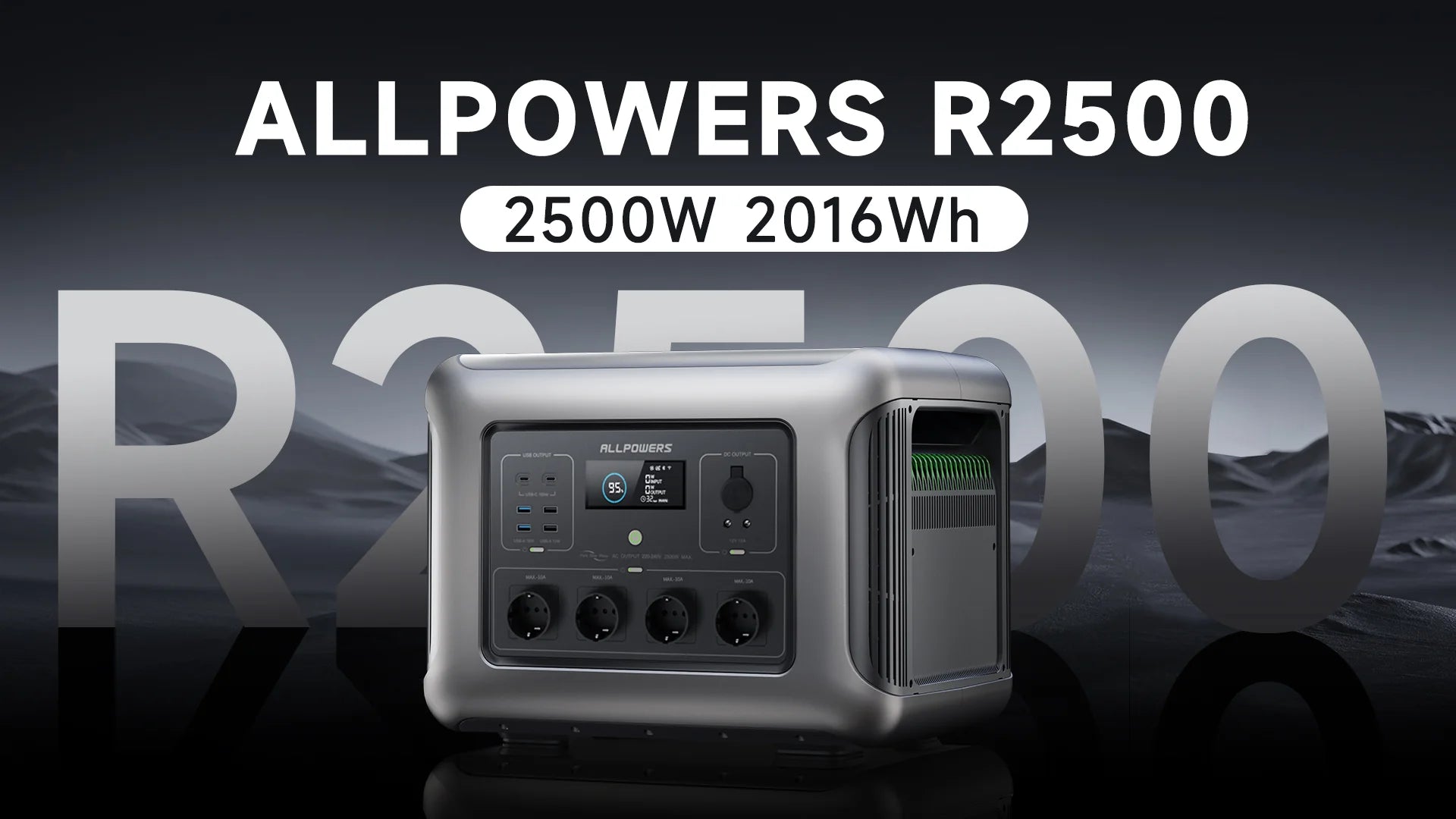 Large Capacity
Experience unparalleled performance with its massive 2016Wh capacity and powerful AC output of 2500W (4000W peak). This powerful power station is ready to provide reliable backup power for your home. Whether it's a stormy night or scheduled maintenance, the R2500 has what you need. Keep the lights on, your devices working, and your devices charging.
Five Ways to Recharge
From charging at home to more mobile solutions, we offer five ways to charge your R2500: AC charging, car charging, solar charging, dual charging (AC+solar),Generator charging.
Smart Wifi and Bluetooth Control Function
Easy to realize by connecting with ALLPOWERS APP via WIFI power monitoring/function setting/remote control/system upgrade.
Expandable up to 20kWh battery
ALLPOWERS R2500 host capacity is 2016Wh, which can be expanded to 20kWh by connecting up to 6 dedicated expansion batteries ALLPOWERS B3000.Just connect the extended battery, and the capacity can be customized according to the number of users and usage scenarios.
UPS Function: Nerver Run Out Of The Power
ALLPOWERS R2500 portable power supply is equipped with UPS (uninterruptible power supply). After turning on the UPS function, even if there is a sudden power failure, the connected electrical products will not stop and can be used as they are. There is a momentary interruption when switching, but only 15ms if the switching takes longer.Since the current of an ordinary household AC power outlet is 15A, the maximum output power is 1500W when using UPS mode.
Equipped with LiFeP04 Battery
R2500 is equipped with an excellent lithium iron phosphate battery, Due to the low energy density, it is heavier than ternary Li-ion batteries, but has excellent cycle times.Due to our unique technology, the ALLPOWERS R2500 life cycle number exceeds 3500.Even with daily use, it will last approximately 10 years or more.
High Performance BMS
ALLPOWERS R2500 uses a BMS with higher performance than ordinary portable power supplies to properly manage high temperature protection, overvoltage protection, low voltage protection, discharge low temperature protection, overcurrent protection, overload protection, short circuit protection, charging overvoltage protection, etc. to ensure user safety.
Enjoy Life with R2500
Having fun with your friend and enjoying the funny time 
This product is rated 4.3 of 5.0 stars.
It has received 6 reviews.
Ottimo prodotto
Per il momento tutto bene.
Buona qualità costruttiva e molto silenziosa
pending rating
This Allpower R 2500 station does not work well; It cuts itself randomly while the connected devices are not completely loaded. She is defaulting and cuts herself.
I informed your business to obtain a solution; I'm still waiting...
My opinion will depend on AllPower's ability to solve this problem.
Très bien mais il manque quelque chose
Très bien mais il manque une fonction de veille il faut toujours la redémarrer pour utiliser l application moi j ai une ecoflow et elle démarre avec l application dans mon camping car c est pas trop pratique si quelqu'un a une solution je suis preneur
R2500
Batterie peu chère le service répond mais l'application est moyenne
Souvent déconnectée
Fonctionnement pas toujours compréhensible
J'espère une évolution positive
Wonderfull power station
After several tests, this energy station allows me to power my house in the event of a power outage. Exactly what I was looking for !
Thank you Allpowers