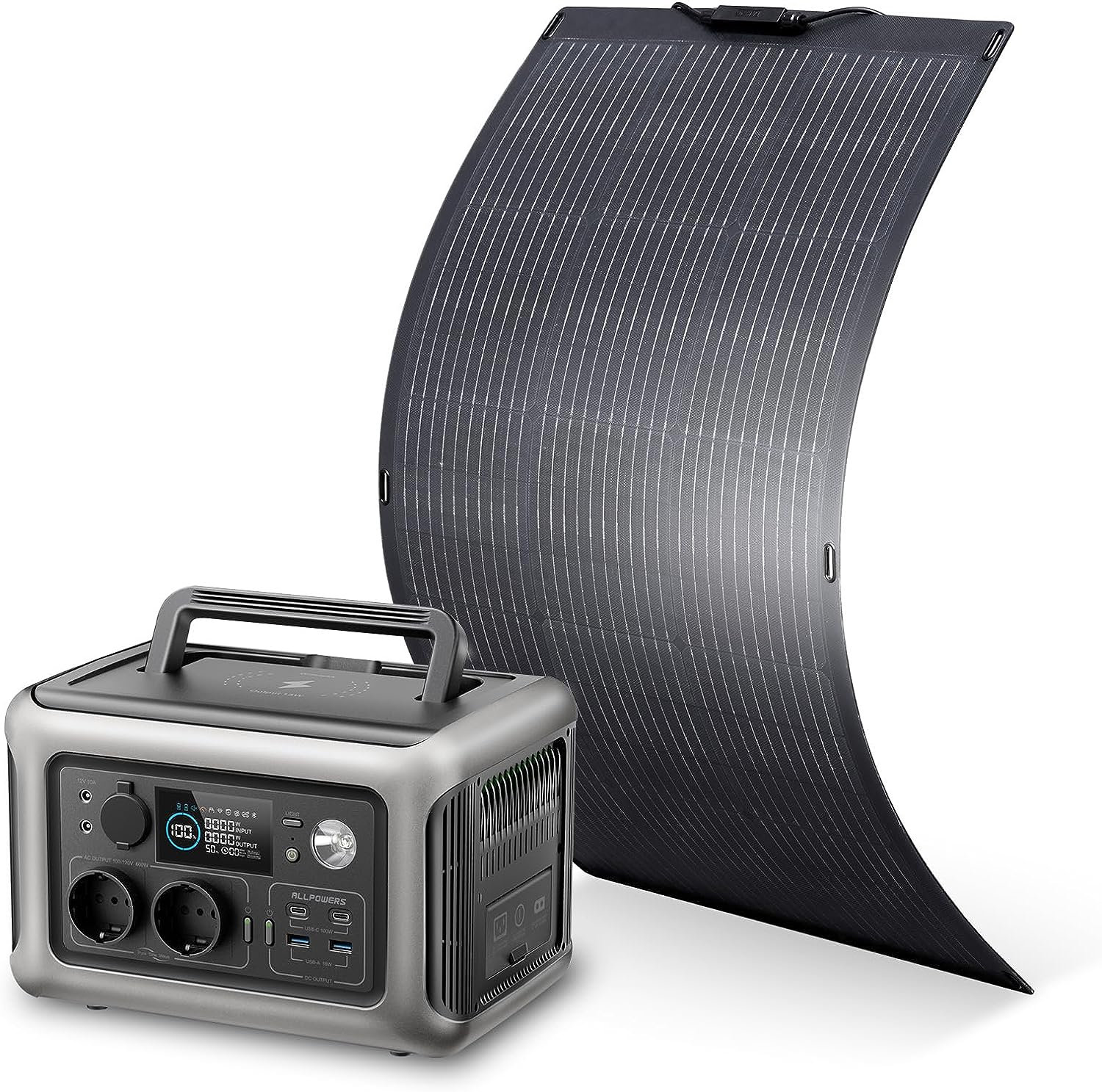 ALLPOWERS Solar Generator Kit 600W (R600 + SF100 100W Flexible Solar Panel)
---
EU delivery, 3-5 days delivery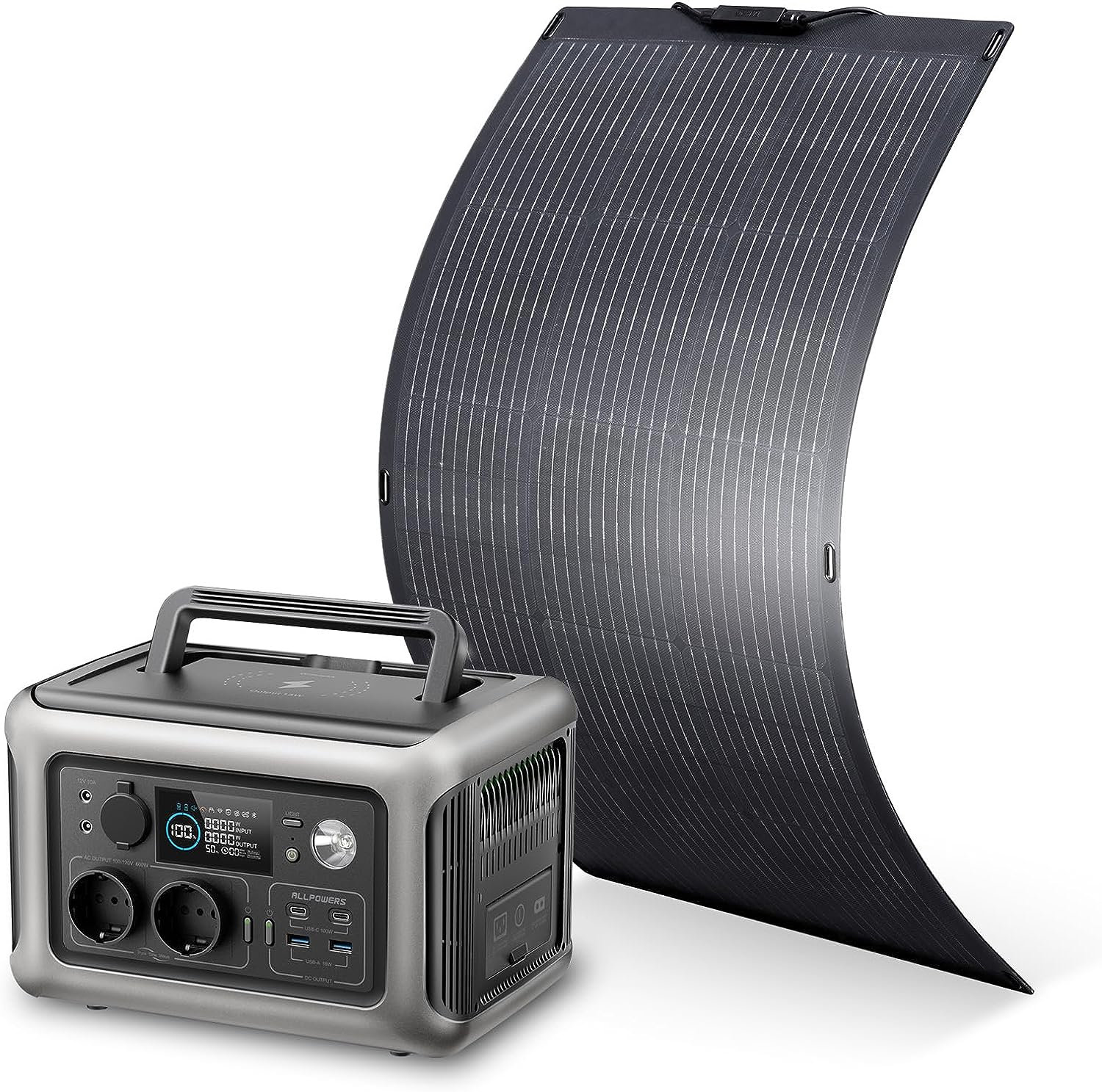 Feature Specification
600W AC Pure Sine Wave Inverter (1,200W surge);
299Wh Capacity;
400W Max. Fast Charging ;
LiFePO4 Battery with 3500+ Life Cycles to 80%;
10 Outputs for Charging Multiple Devices at once;
Smart Control & Monitor in ALLPOWERS App;
300W Max. Solar Input;
Easy to Carry/ Fast Charging/ Safe & Reliable/ Cost-effective
UPS support
EU Plugs and UK Plugs Sockets(UK plugs can only be sent to the UK)
For customers in other countries such as Ireland who use UK plug standards, they can purchase a European-style to British-style conversion socket adapter online
Download Manual
Battery type
LiFePO4 (3500+ Cycles up to 80%)
2 * AC-Output
600W / 230V, Spitze 1200W
1 * Cigarette Output Port
Power 10 Appliances Simultaneously
ALLPOWERS portable power station features 2* AC outlets (110V 600W, 1200W Peak), 2 * USB-C ports, 2* USB-A ports and 2* DC outport, 1* car cigarette lighter (12V/10A) and a 15W wireless charger . With an output of up to 600W, ALLPOWERS R600 outdoor generator is specially designed for charging kettle, juice, laptops, car refrigerator, drone and other outdoor electronics, power your outdoor adventure without worry.
Recharge from 0-100% in 1 Hour
Fully recharge the portable power station with AC wall outlet in only 1 hour with ALLPOWERS fast charging technology, no bulky power brick, only a single cable to recharge R600 at most 400W max. Note: At present, some iPhone 13 and iPhone 14 may not be able to perform wireless charging due to the thickness of the camera.
Stay Connected with ALLPOWERS APP
The intuitive APP offers a truly convenient experience at your fingertips, giving you quicker access to R600 through Bluetooth within a radius of 5-10m and keeping it under your control around the clock.
Reliable UPS
R600 mini portable generator provides backup power instantly when the grid fails, protecting your desktop PC, file servers, and other sensitive devices from data loss or damage.
LiFeP04 Long-Life Battery
Equipped with LFP battery cells, use and recharge R600 more than 3500+ times before hitting 80%. That's almost 10 years of regular use. R600 portable generator includes advanced BMS protection, monitoring voltage, current, and temperature to keep your LFP battery running for years.
Portable Power for A Sustainable Lifestyle
Designed to be more energy-efficient than traditional generators, ALLPOWERS R600 is so light in terms of weight, doing its part to help you reduce carbon emissions to the environment.
3 Ways to Recharge
Go for an off-grid living anytime from RV camping to wilderness exploration with no fear of losing power. ALLPOWERS R600 can be recharged in every way possible, either via AC, solar panels, car, leaving you only peace of mind on the road.

What devices are compatible with the ALLPOWERS R600?

Compatible with rated power is less than 600W and peak power is not more than 1200W. Common electrical appliances are applicable, such as computers, mobile phones, fans, juicers, car refrigerators, drones, bread machines, televisions, etc.
How do I know the working hours of my device?

AC output:working time = 299Wh * 0.85 / working power of the device.

DC output:working time = 299Wh * 0.90 / working power of the device
Can R600 be used as an uninterruptible power supply (UPS)?

Yes. When R600 is recharging from AC, the devices pluged it gets power from the grid, not its battery. If power outage, R600 automatically switches to its battery supply mode within 10 milliseconds.
What kind of solar panels can be connected?

R600 MPPT solar input recieves 12~60V 12A 300W max. we recommend you choose the SP033、SF200 (200W) and SP027,SF100 (100W )solar panels.
This product has no reviews yet.