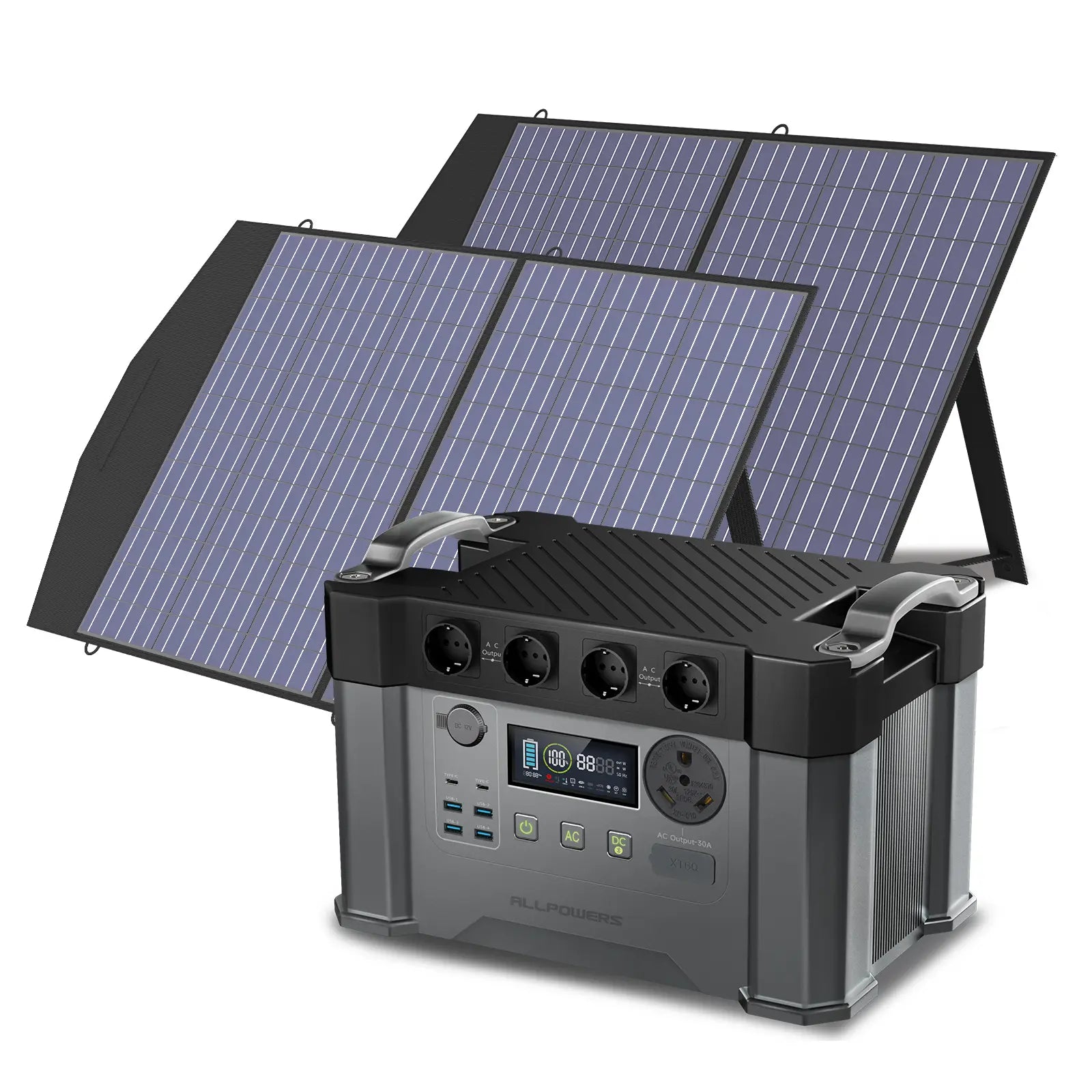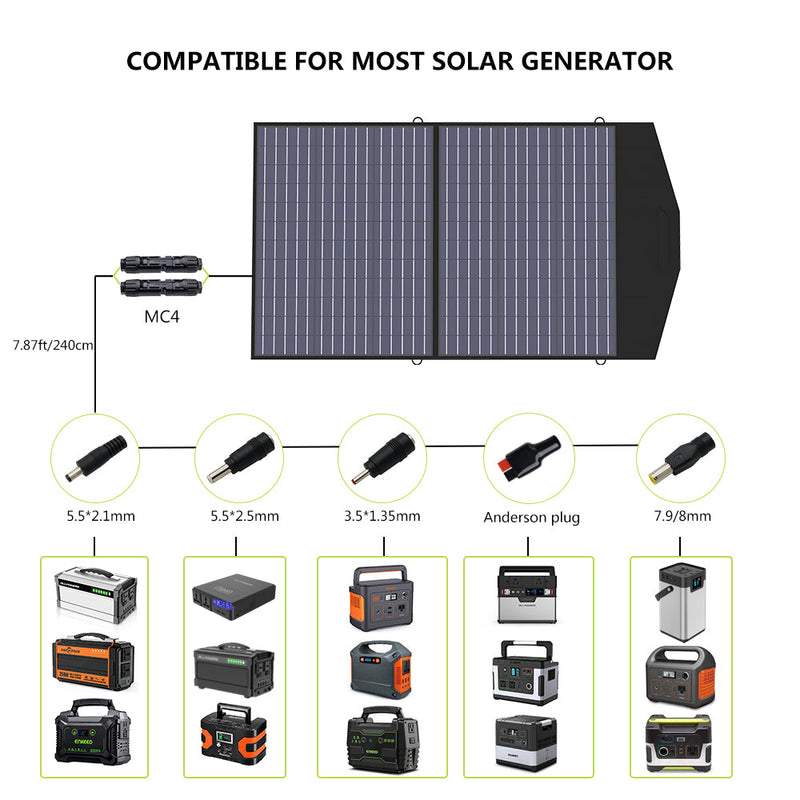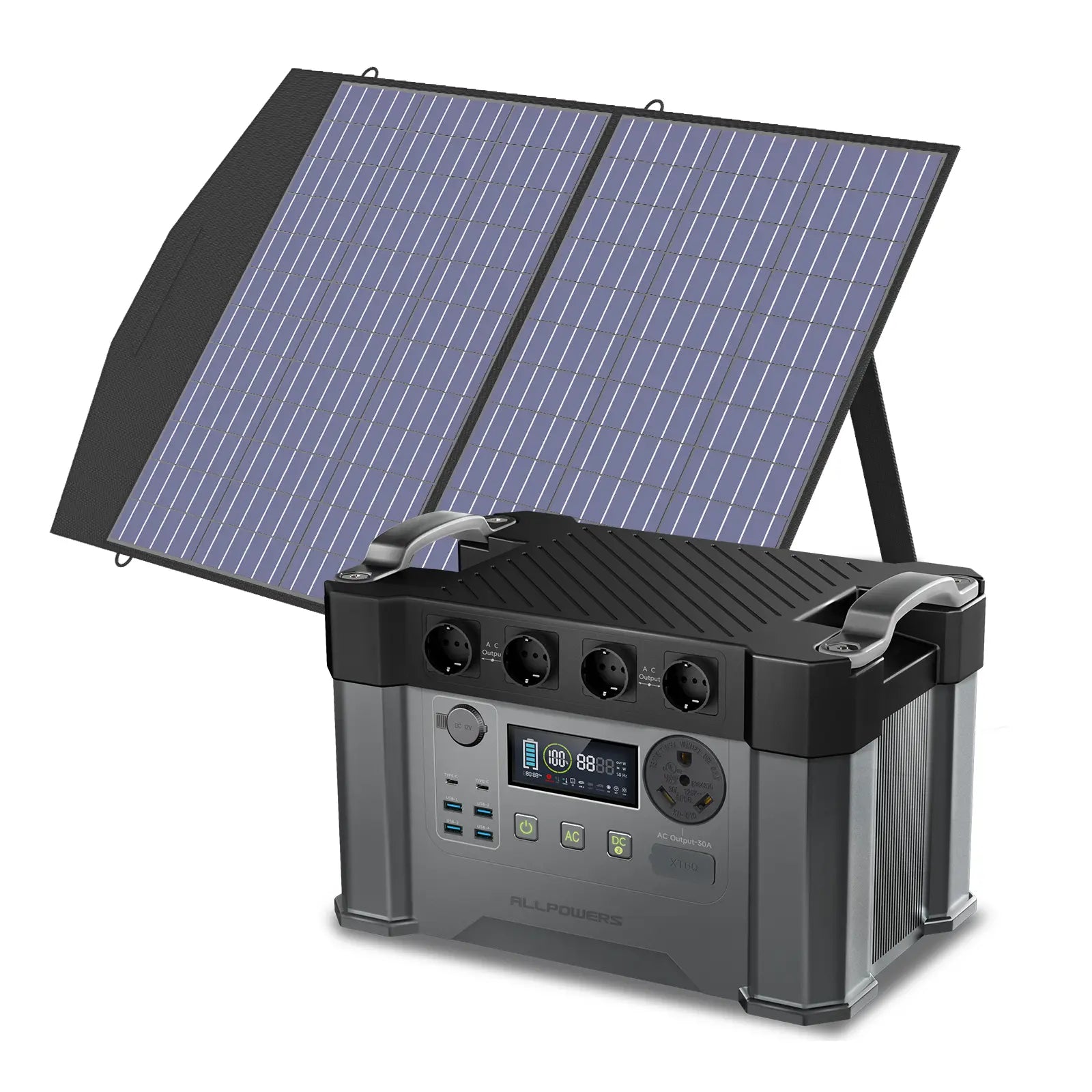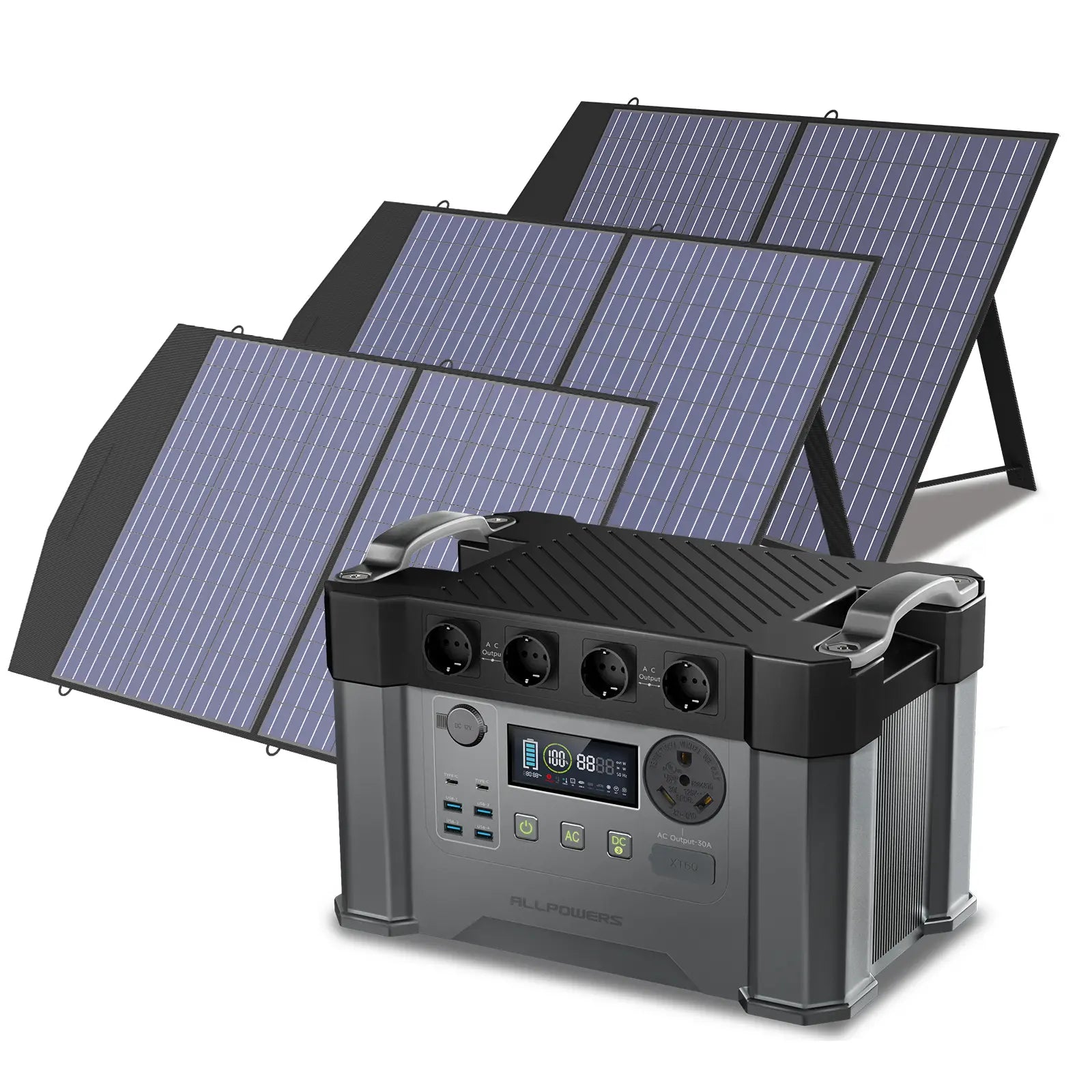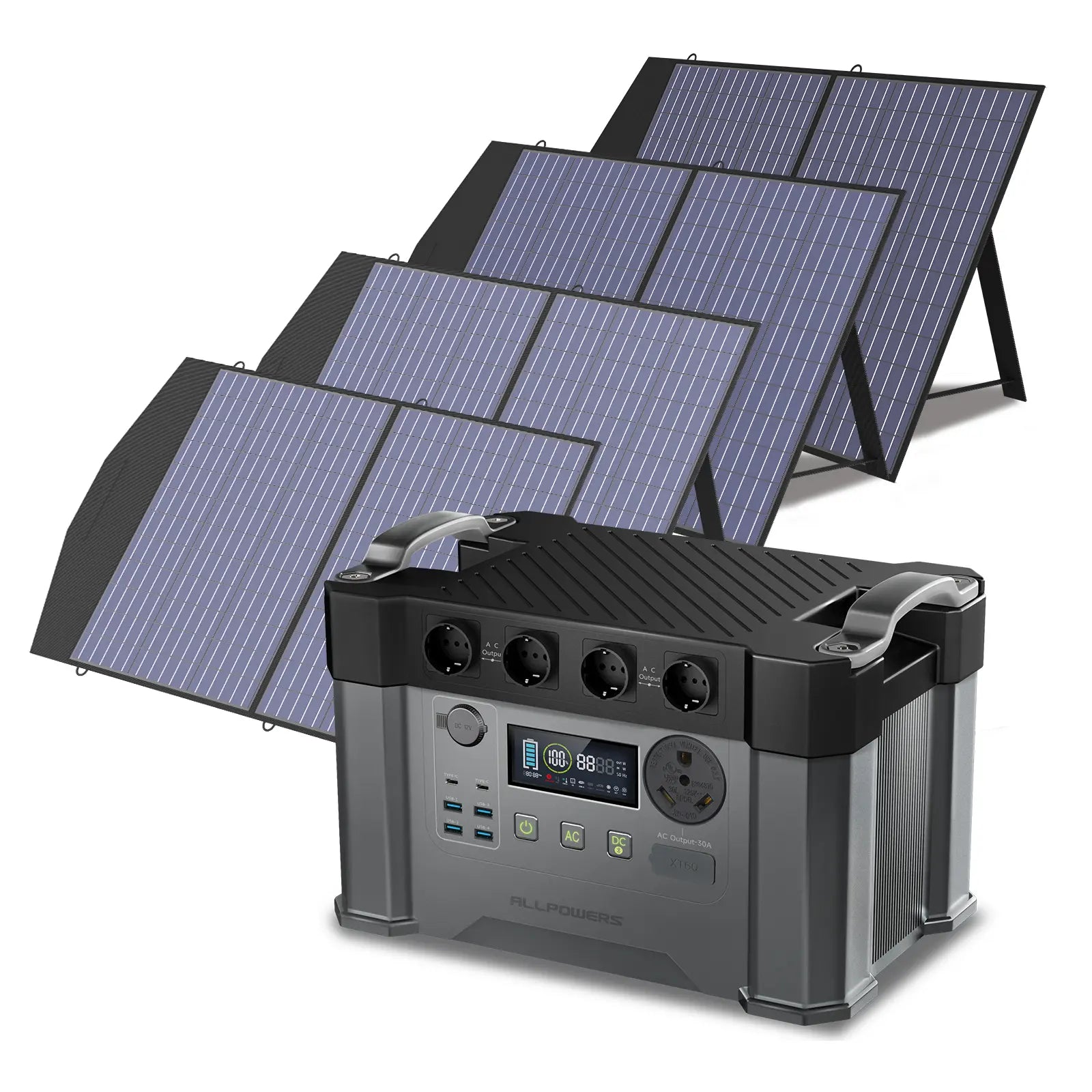 ALLPOWERS Solar Generator Kit 2400W (S2000 Pro + SP027 100W Solar Panel)
---
EU delivery, 3-5 days delivery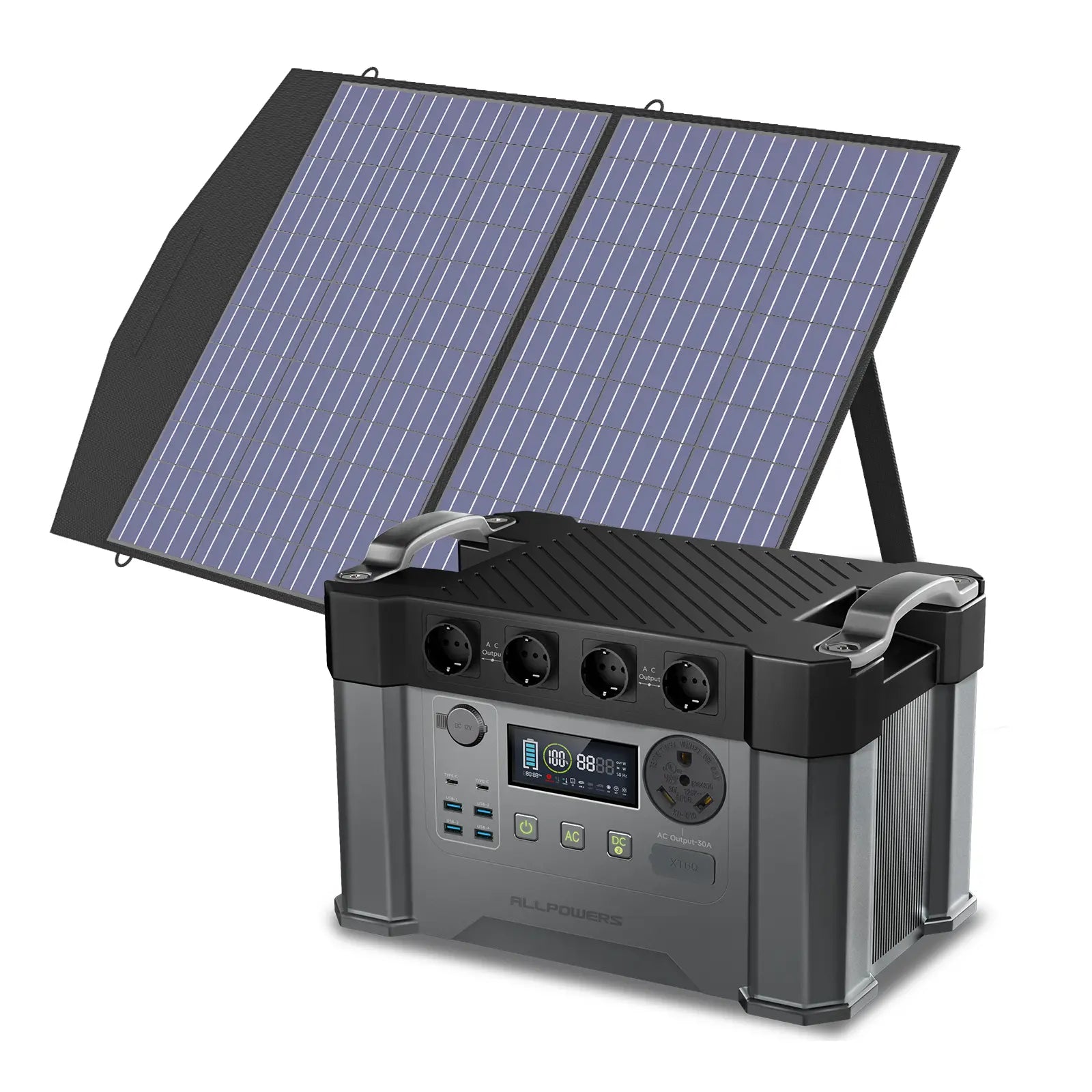 Feature Specification
1,500Wh,405405mAh Capacity;
2400W AC Pure Sine Wave Inverter (4,000W Surge);
Recharge from 0-100% in 1.5 Hours(AC+solar input);
Battery with 2,500+ Life Cycles to 80%;
30A Output for RV
650W Max MPPT. Solar Input
UPS Battery Backup with 6 Protection
Eco-friendly/Gas free/Cost-effective
EU Plugs and UK Plugs Sockets(UK plugs can only be sent to the UK)
For customers in other countries such as Ireland who use UK plug standards, they can purchase a European-style to British-style conversion socket adapter online
Download Manual
Dimensions
37.5 x 24.5 x 25 cm/ 14.76 x 9.64 x 9.84 inch
4*AC Output
Continuous: 2400W, Surged: 4000W
4* USB A Output
USB1/USB2/USB3/USB4:5V3A/9V2A/12V1.5A USB1+USB3/USB2+USB4:5V2.4A+5V2.4A
Solar Input
MPPT 18-70V, 18A 650W Max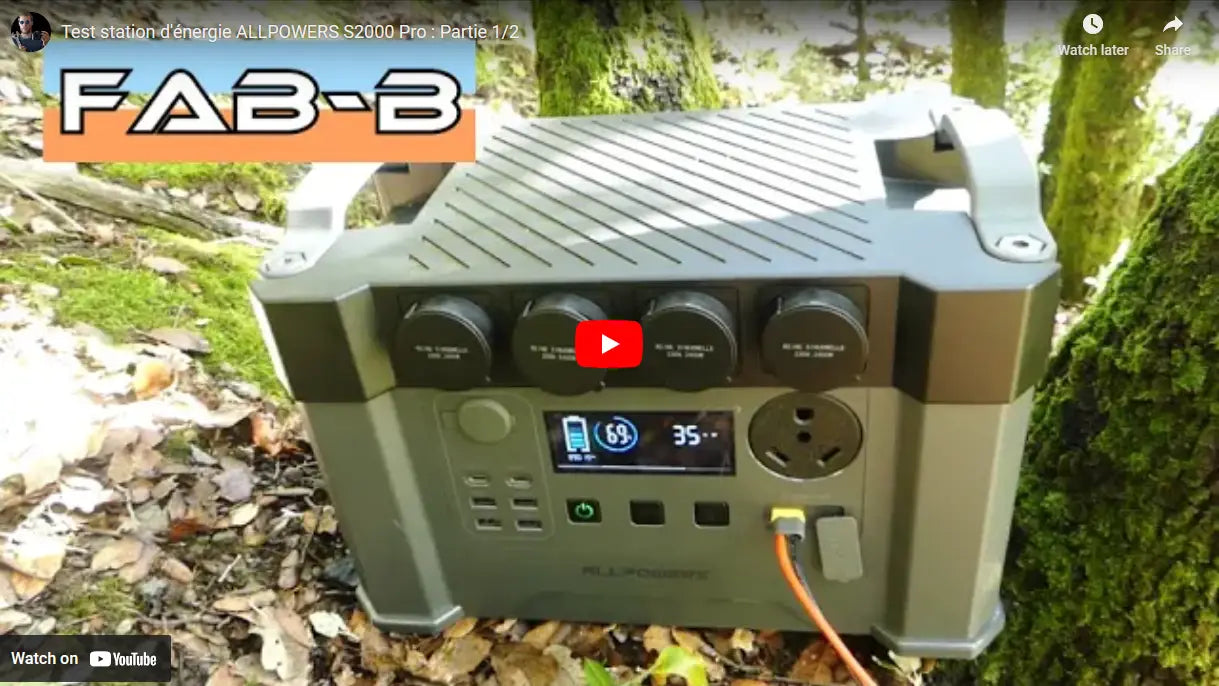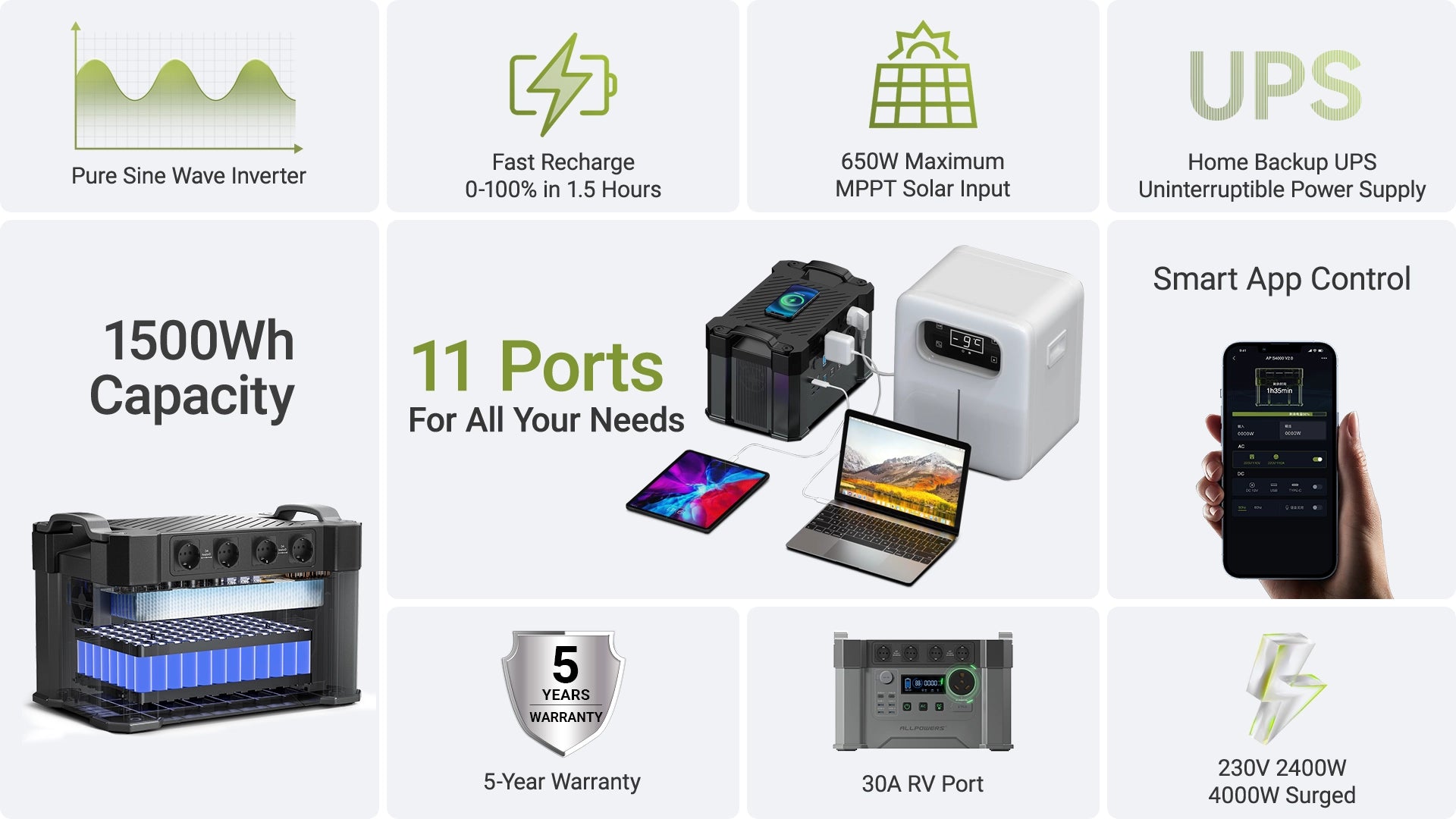 Reliable Home Backup Power
The S2000 pro has a remarkable 1500Wh capacity and 2400W output, making it capable of running 99% of home appliances. You may use it to power the majority of tools and appliances for outdoor activities and domestic crises, giving you confidence in any situation.
Five Ways to Recharge
From charging at home to more mobile solutions, we offer five ways to charge your S2000 PRO: AC charging, car charging, solar charging, dual charging (AC+solar),Generator charging.
UPS-Uninterruptible Power Supply
S2000 pro is equipped with UPS. An uninterruptible power supply (UPS), offers guaranteed power protection for connected electronics. When power is interrupted, or fluctuates outside safe levels, a UPS will instantly provide clean battery backup power and surge protection for plugged-in, sensitive equipment.When equipment is off the grid or fluctuates above safe levels, UPS will immediately supply battery backup power. Excellent for refrigerators, gaming consoles, computers, and other delicate equipment
30A Outlet for RV Travel
This is a socket specially designed for RV charging. S2000 pro, not only can charge 99% of household devices, it can even charge the car.
Remote Control Via ALLPOWERS APP
ALLPOWERS portable power station supports Bluetooth wireless connection with ALLPOWERS APP. Bluetooth technology in power generators provides a stable and advanced experience for remote control of solar generators almost anywhere, even up to 10 meters away. Through the LCD display and smart phone, you can also accurately determine the power station's remaining battery/input/output.
Ultra-durable & Safe Power For Your Life
The S2000 Lithium battery offers 2,500+ life cycles and lasts for almost 10 years (one cycle per day), along with the advanced Battery Management System (BMS) integrated in S2000 monitors everything happening in this device, protecting your device from every potential risk in the day-to-day operations.
High Capacity Battery
You are always well prepared for any power outages with S2000 pro. This is the best backup source for a power outage. It is quiet in operation and maintenance-free. Finally it can give you enough power to run your essential home appliances. Such as refrigerator, coffee maker, electric grill, electric saw etc
Can it charge and discharge at the same time?
What device can ALLPOWERS S2000 PRO ?

Please note that the AC output port can only charge/power devices that operate at less than 2400-Watt. Once exceeding, the S2000 pro will shut off automatically. Please refer to your device specification before purchase.
How do I know the working hours of my device?

First, you need to know the watt of your load device, such as it is 500W.
Then,
AC output:
working time = 1500Wh * 0.85 / working power of the device.
1500Wh * 0.85 /500w=2.5 hours (rough calculated)

DC output:
working time =1500Wh * 0.90 / working power of the device.
1500Wh * 0.9 /500w=2.7 hours(rough calculated)
Is it possible to replace the built-in battery?

No, the product could not support change the battery or expanded battery capacity
How many solar panels can be connected to S2000 PRO?

The maximum input wattage of S2000 Pro is 650W MPPT(18V-70V)
. Please choose a solar panel in this voltage range.you could chooe ALLPOWERS 400W solarpanel, multiple 200W solar panels or multiple 100W solar panels in series or in parallel.Please remember that use the solar panels within the range(18V-70V).If you have any questions, please feel free to contact us.
How long does it takes to full charge this power station?

AC charging: 400W, fully charged 1-2 hours
Solar charging, 650W, fully charged 3-4 hours
AC charging + solar panel charging, 900W, fully charged 1.5h
Does the product have UPS function?
What is the product battery?
This product has no reviews yet.